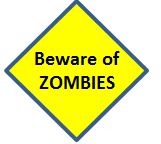 What's the scariest blog post you have ever read?  For me it's a blog or website without any personality.
Storytelling and personalization is the key piece in content marketing as I see it. People are good at writing about what they know. They aren't as good about expressing who they are and why they do what they do.
If you're not writing real stories, your content – on your blog, in your newsletter, on your web pages – runs the risk of being boring. You may be excited about what you do as a professional, but your clients will get bored or overwhelmed if you just throw information at them.
What's your back-story? Read More→