Today's guest post is written by Christine Buffaloe, of Serenity Virtual Assistant Services, a great resource for social media know-how, for Facebook, LinkedIn and Twitter.
Many people who think they don't have time for social media use applications that automatically feed their blogs into Facebook, Twitter and LinkedIn. Although this seems like a good idea, it may do you more harm than good.
Here are 5 reasons why you should NOT automatically feed your blog into these social media sites:
You cannot personalize the content.  If you want to make your status updates more appealing,  post it in the form of a question and ask others to comment. You are more likely to get fans to "like" your post, comment and share.
The inability to "tag" others in your status updates. This goes hand-in-hand with personalizing your status update, but it is important to "tag" either your friends or pages if the content is appropriate for them or their pages. This will not only show on your feed, but theirs as well.
The content you feed into Facebook may not be appropriate for Twitter and LinkedIn. These social media sites are all different in as much as you are appealing to a different audience in each of these.
Those that use the auto-feed are re-hashing material to all of the social media sites. If you have folks that are following you on all three, they will see the same materials and are likely to become annoyed and stop following you. Keep it fresh.
Remember, keywords are essential when posting to your status update to your Facebook business page. On Twitter hash tags (#) are key.
Now, if you are gung-ho about the auto-feed I found a couple of ways in which to do this, but only feed to one network. The first one is Networked Blogs. You can decide just where you would like to feed your blog.  I have set this up on my Facebook business page, but I will still go in and manually personalize this. NetworkedBlogs is also a syndication service.
If you are on a WordPress platform, they have Publicize which has been recently updated to post to your Facebook business page. This is a plug-in and you ha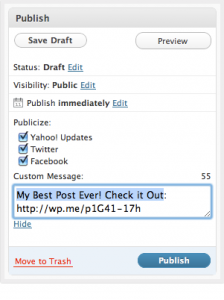 ve the opportunity to customize your posting.
The choice is always yours, but to get the most bang for your buck, it is worth the five extra minutes it will take you to manually post and communicate with your fans and followers on your social media sites. Remember the "social" in social media.
Christine Buffaloe of Serenity Virtual Assistant Services provides a wide range of administrative support services specializing in social media.
If you like, you can "like" our Content for Coaches page here.