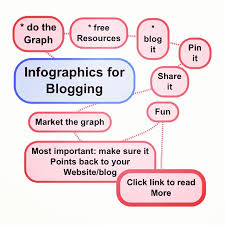 Business blogs are better when they lead with a spectacular eye-catching image. But are you bored like I am with the standard business photos offered on free photo sites? How many happy smiling people have you actually seen in a business meeting lately? Give me a break and some more coffee.
I've got a new toy: Google Images. I was researching planning models for a client ebook I'm writing, and discovered a page of diagrams and charts people have contributed: Google Images for Planning Models. Check it out, there are 3-D pyramids, bar graphs, circles, arrows: wow.
So I wondered what images I could find for illustrating a blog post on how to write and post on a business blog. Not so hot… boring and confusing. Apparently images are best when steps are clear and everyone has a similar process. However, there were some great images for "infographics + blogging."
Here are some guidelines for adding great images and infographics to your business blog, to attract readers and get their attention.
I did a search on my own blog, WritingontheWeb.com for similar posts on adding images. What I noticed was that posts that combine blogging tips with celebrities and their photos were well viewed. It helps to have a celebrity name in the post title. ("Oscar Wilde: Advice for Better Blogging").
Graphs and charts do a good job of describing a process when they don't have too much info. Caution: keep it simple. I notice on Google Images and other blogs that authors often try to stick way too much information into one diagram. Information should be broken into simple steps and concepts and served up in teaspoons, not fire hoses. Not only does too much info in an image crowd the space, making it hard to read, but it causes brain overload. Not a good way to leave a lasting impression.
If you can't find an image that illustrates your point of view, then create one yourself. I use SmartDraw and I'm not any kind of a whiz-geezer.
Here's a sample diagram for how readers find your blog post. It didn't take me all that time to create and it outlines a process visually: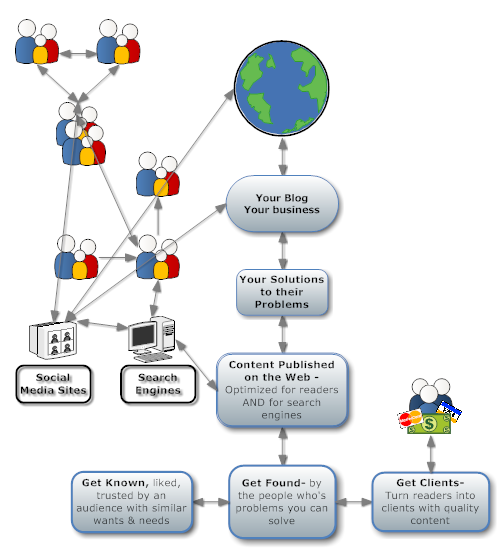 Try finding a few appropriate images and infographics for your blog with Google Images. You'll be surprised at how interesting, funny, and relevant they can be to illustrate your post and grab readers' attention. Don't forget to give credit to the source: The image at the start of this post is created by EmpowerNetwork.com.