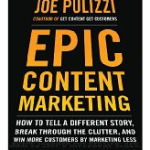 If you're in business and have a business blog, you're frequently challenged by what to write. There's always a lot you can say about your products and services, but how many different ways can you write about them before your regular subscribers get bored?
In my ebook Content Marketing with Blogs, I suggest business blog posts should be written with the 4 E's as a guide: What you publish on your business blog should:
Entertain
Educate
Engage
Enrich
As anyone who runs a blog knows, that's a tall order, and if you score high in one or two of these qualities, you can feel pretty good. But is it enough?
I recently purchased Joe Pulizzi's new book Epic Content Marketing: How to Tell a Different Story, Break through the Clutter, and Win More Customers by Marketing Less. It's full of examples from big businesses but all his advice is great for small businesses and individuals as well. Joe is known as the godfather of content marketing as he has been a long-time promoter of quality content for marketing purposes. He founded the Content Marketing Institute.
The book is a treasure of information about the value of content marketing throughout all channels (blogs, e-newsletters,  videos, podcast, and social media). Two questions stood out for me as key for any small business owner who wants to (needs to!) publish quality content on their blog:
"Is our content more about our customers' pain points or more about us and how great our products or services are?"
"Will people share and spread this information in social media? Will they talk to their colleagues about it? Will they search for it?"
Here are a couple of quotes from the book that I wish my clients would read and remember:
"Your customers don't care about you, your products, or your services. They care about themselves, their wants, and their needs."

"Content marketing is about creating interesting information your customers are passionate about so they actually pay attention to you."

"We need to focus more on our customers and less on our products. Yes, you heard that right: to sell more, we need to be marketing our products and services less."

"Instead of pitching your products or services, you are delivering information that makes your buyers more intelligent or perhaps entertaining them to build an emotional connection.

"The essence of this strategy is the belief that if we, as businesses, deliver consistent, ongoing valuable information to buyers, they ultimately reward us with their business and loyalty."
Content marketing isn't a buzz word; it's a concept that represents a new way of marketing for your business that you need to understand if you want to compete successfully. It applies to both offline and online. The more you understand content marketing, the easier it will be to come up with interesting, quality – dare I say – epic blog content for your readers. What do you think about this?