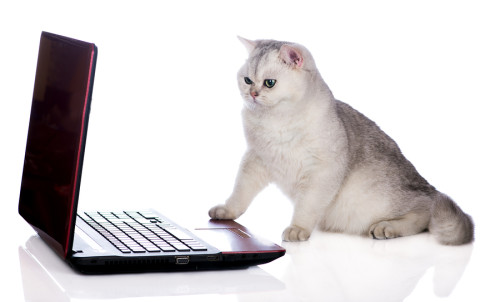 When it comes to business blogging, how do you save time and still get results? How do you make blog tasks so easy your cat could do it?
It's the dog days of summer but around our house that expression isn't acceptable. Doodles and Buster would have a cat fit. Here in Mexico we're in the rainy season, when the heat of the Summer is tempered by the cool nightly rains. Which brings our year-round average temp to a mild 73.  Not bad when you're a tennis enthusiast and enjoy time outdoors.  Which is why it's even more important to me to save time when blogging.
Over the years I've purr-fected my blogging system. And as a thank-you to all my content marketing blog clients (shout out to all my new and renewing content subscribers who took advantage of our sale last week), I want to share it with you all. Plus I figure it will be good Kitty Karma – maybe it will even help keep the cats off Facebook. They want their own pages now…
So here is my little ebook,  Content Marketing with Blogs: Guidelines to Save Time & Get Better Results.
(You can simply click the link above to access this free document .)
Remember, when creating great content for your blog there are four basic items to keep in mind (CODA blogging system):
4 Key Steps to a Successful Business Blog: 
Content: Edit for quality, write a good headline.
Outreach: Make it easy for the search engines to index your post appropriately
Design: Format it for easy reading, add images and links.
Action: Make it easy for readers to share with others and to read related posts.
I hope you're enjoying your summer – where ever you may be!