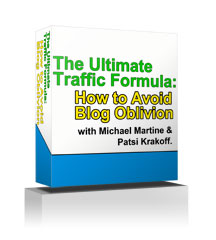 You are registered for the Ultimate Traffic Formula teleseminar with me, Patsi Krakoff along with Michael Martine, of Remarkablogger.com.
The  details are as follows:
Ultimate Traffic Formula: the Key Traffic Factors You Must Learn If You Want Avoid Business Blog Oblivion
EVENT: The Ultimate Traffic Formula, How to Avoid Business Blog Oblivion

DATE & TIME: Wednesday, May 19th at 4:00pm Eastern
FORMAT: Simulcast! (Attend via Phone or Webcast — it's your choice)
TO ATTEND THIS EVENT, CLICK THIS LINK NOW…

http://AttendThisEvent.com/?eventid=12611811,
Or, to make this easy to remember, snipurl.com/blogtraffic.

The Password for this Event is: TrafficFormula
To access the conference by phone, dial:
858-704-4094 + 186028#
This teleseminar will be recorded and the audio file available shortly afterward. If you miss the live call, you'll be able to listen to the recording at your convenience.
It's best to call in 2 minutes early. The call will be put on mute in order to eliminate background noises.
If you have questions you want answered, just email me before the day of the call, pkrakoff at gmail dot com. There will be an opportunity to submit written questions during the event if you are online.
Please plan on 75-90 minutes for this call. I'll send you a reminder to confirm the web link and password to access the live webcast online.
P.S. If you were one of the first 25 people to register for this class, you get the following bonus: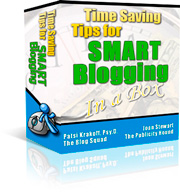 Time-Saving Tips for Smart Blogging
You will receive an email with the link to download this program. If you don't get the email, check your spam filters, and let me know by email so I can send you the download link.
(Please note: some people reported a glitch in accessing the page for the blogging program. If this happens for you, please email me so I can give you this program.