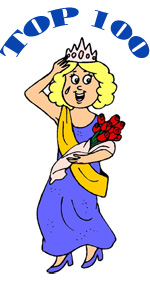 Thank you Milana Leshinsky. You've been an inspiration to me for the last few years. And now this comes as a special honor, to be included on your list of Top 100 Multiple Income Streams Women.
Here's what Milana tells us about why she created this list:
Although Internet marketing and information marketing is still dominated by men, there are many women who are building their multiple income streams empires.  In the next few posts I'll be featuring some of the most successful women entrepreneurs who turned their passion into a multiple income streams business online!

First, here are the criteria I used to identify them:

Content-rich blog
High quality web site
Clear strong personal brand
Prominent free giveaway
Book or signature product
Information products
Coaching programs
Live events
Membership programs
Use of audio and video
Active community
I can't say I currently participate in all of these income streams, but I have at one time. And please note that Milana doesn't say  "Passive Streams of Income" here.
None of these income sources are passive, although many are automatic. All require work, promotion, and constant "minding the store." Don't let anybody tell you online income products are "passive."
I am very honored to be among such a strong list of creative women, who are pioneers in each of their own ways. Be sure to check out these women on the list.
Milana herself has forged the way for many independent women and work-at-home moms. She has a talented ability to create and sell popular information products, membership programs and telesummits. If you don't know her yet, be sure to visit Milana.com.
Milana came to this country from the Ukraine, to study music. Even though English is her second language (or maybe 3rd or 4th?), she communicates to others with clarity and passion.
As her tag line says, she helps "awaken your fortune within." She brands herself as "your multiple income streams business coach." Who wouldn't want to work with a coach like Milana who certainly walks the talk?
Quality stands out and leaves a memorable mark. Listen to her speak and tell her story about how she quadrupled her income in one year and now works less to have more time with her family.