I've said it before, and I'll say it again:  a business blog is the best way to get found online, the best way to connect with potential clients, and the pathway to turning readers into clients.
So, what's your favorite excuse for not blogging for your business?
I keep hearing the same reasons, over and over.  As a matter of fact, it made me think of a blog post I did last year.  I reviewed it, and guess what – it's still relevant, so I'm posting it below.
Top 3 Excuses for Not Blogging:
"I don't have time to blog."
"My clients aren't surfing the Web reading blogs."
"Oh, that means I've got to write about my business every week?"
There are over a billion people connected to the Internet. I'm willing to bet my lunch money that quite a few of them fall into the category of "your ideal clients."
It's not likely they go online looking for you, your business or your blog. I'm not saying that. But they do go to search engines and they type in questions with keywords.
And they do  go to Facebook, Twitter, and LinkedIn. Here's what this looks like, how readers find your blog, in this Smart Draw diagram I did: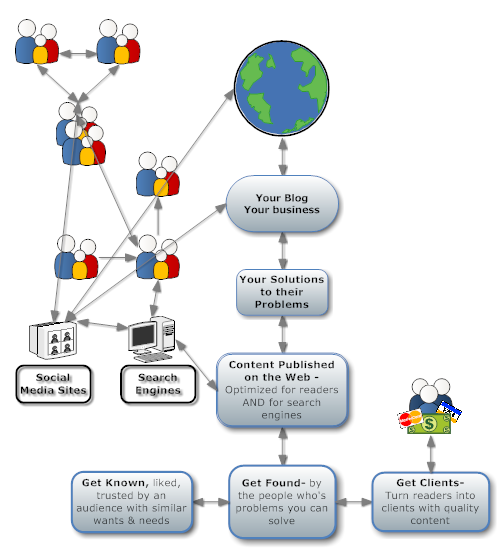 Like any diagram, it's simplified.
For example, I don't explain how clients decide to buy what you have to offer. But I think this does a good job of visually representing how ordinary people use the Internet and what happens when there is a good match between their problems and your solutions.
Quite frankly, I think Google and the other search engines are improving their methods of correctly categorizing content to match people's requests. It's up to businesses and blog authors to make their content clear and optimized for easy indexing.
It's not rocket science and you don't have to be a geek or hire an SEO expert. Most of what you need to know about optimizing your content for search engines can be learned online, even for free.
Here are a couple of SEO resources I like:
You can't go wrong with either of these four resources. Let me know what you think about all this, and about how your readers find you online.