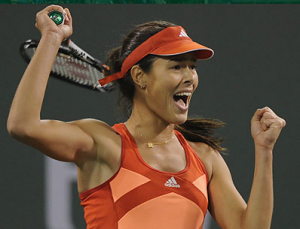 Is your blog like my tennis, a hit or a miss? Are you writing posts that are clear winners for your readers? Are you serving valuable, relevant content within the lines of your readers' needs?
This week I'm watching the world's best players battle it out on the courts at the Parisbas Tennis Open in Indian Wells, California. I've noticed a few things that applies to content marketing.
Persistence and control is the name of the game. With me, I get impatient in a rally, and with a burst of aggression I'll end the point with a whopping drive… clear out of the court.
I know people who blog like that. They write 600-900 words every few weeks, then wonder why they aren't getting search traffic.
Blogging for your business doesn't work that way. Steady as you go, writing at least twice a week, at least 350 words, focusing on the key words that drive results for your business, mixing information with stories, always keeping the reader in mind.
Business blogging is like tennis: you want to keep the ball in play. The "ball" is the conversation you have with your ideal clients, your readers. What problems can you solve for them? Keep the dialogue alive. You can't do that when your blogging is inconsistent.
If you want to get found on the Web, you need plenty of content that's relevant to your readers. The more you create new content, and publish on your blog, the better the possibilities your ideal clients will find you.
Get found, then get known by your readers. You are priming the pump towards getting new clients. Persistence pays.
If you're an executive coach or leadership consultant who's too busy with clients to manage your blog and content marketing tasks, consider outsourcing. Click here for information over on my site, Content for Coaches. I can help make your newsletters, blog, and Web pages rank high with both search engines AND your clients.