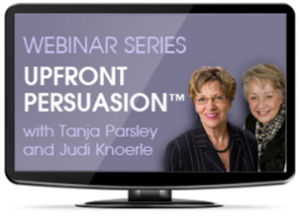 To be truly persuasive, all professionals must make presentations. Let's face it, not all marketing is online, nor is all content marketing published information.
The most persuasive marketing tool that exists is face-to-face human interaction. Are your presentations truly persuasive, or could you improve?
Even if you're not in sales, and even if you're a natural born speaker, you need to hone presentation skills so that you connect as confident, knowledgeable and trustworthy. I don't often promote other people's webinars, but I honestly feel this is worth it.
Tanja Parsley is a presentation expert who has a successful career helping smart professionals improve their persuasiveness through presentation skills. She is founder of Partners in Performance. Next week, September 13, she and her business partner will deliver 13 Expert Tips for Truly Persuasive Presentations. You can get the details here.
Here are a few things she promises to deliver:
A snapshot of the UPFRONT 'Presentation Planner', a flexible framework designed to make it easy for you to systematically build persuasion into each and every presentation.
6 Convincing Elements that bring your presentation to life and appeal to both reason and emotion
Why words matter and the ONE word that is most persuasive
3 Tricks to develop the right mindset that allow you to relax and enjoy your time in front of an audience
Why the design of your slides can make or break your persuasion factor
I had a conversation with Tanja last week about her webinar series (13 presentation skills delivered on the 13th of the month through 2013), and I know she's covering just about everything you need to know, from content, slides, delivery, calls to action — and most important — the mindset necessary to be truly persuasive.
I'm not an affiliate, so I'm not promoting this for any reason other than I believe presentation skills to be key to  professional success. Tanja is passionate about teaching and coaching others on presentation skills.
So if you can, don't miss it. You'll be glad you took the time for this one-hour online webinar on how to be truly persuasive.