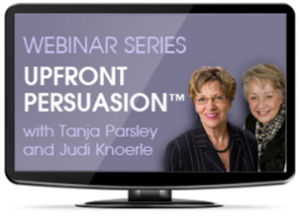 To be truly persuasive, all professionals must make presentations. Let's face it, not all marketing is online, nor is all content marketing published information.
The most persuasive marketing tool that exists is face-to-face human interaction. Are your presentations truly persuasive, or could you improve?
Even if you're not in sales, and even if you're a natural born speaker, you need to hone presentation skills so that you connect as confident, knowledgeable and trustworthy. I don't often promote other people's webinars, but I honestly feel this is worth it.
Tanja Parsley is a presentation expert who has a successful career helping smart professionals improve their persuasiveness through presentation skills. She is founder of Partners in Performance. Next week, September 13, she and her business partner will deliver 13 Expert Tips for Truly Persuasive Presentations. You can get the details here.
Here are a few things she promises to deliver: Read More→