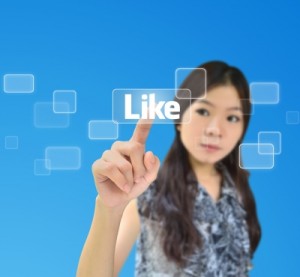 It seems that the younger the employee, the more frequently they use social media. While it is still relatively easy to find baby boomers who have no social media accounts, it's tough to find a millennial without at least one online profile. Tougher still is finding a teenager who is not connected on Facebook and Twitter.
The difference between teens and their older counterparts on social media platforms is that they use it less to connect, and more as a creative outlet. Most of the friends that teens have through social media are the same ones that they see on a regular basis at school. As a result, social media outlets are used less to connect and more to keep up. (Image: freedigitalphotos.net)
It can be easy to write our youthful "friends" off as irrelevant to our own social media pursuits. The truth is that there is actually a lot to be gleaned from the younger generation. In many ways, they get a lot right when it comes to social media. Here are a few tips savvy social marketers can take away from teens:
Don't take life (or your business) too seriously. Not everything has to be about business. Encourage interaction among your followers and fans with posts that have nothing to do with your business or products. Regular responses from the people in your social networks means that the times you choose to post about business aspects have a better shot at being seen in news feeds. Besides, social media is supposed to be fun – do your part to keep it that way.
Overshare and mix it up. What you had for breakfast is not really what most of your customers want to know, but it is always a good idea to go beyond typical posts for the benefit of followers. There is a fine line here, however. It is annoying to see promotional posts over and over again. Mix it up with links to cool articles or prompts for followers. Each time that a follower or fan interacts with you increases the chances that they will want to do business with you later on.
Keep it interesting with pictures. With the ease of cell phone cameras and instant uploading features, teenagers post pictures of just about everything. While the endless bird's eye view of the outfit of the day that teens post gets tiresome for followers, they have the basic concept mastered: people like pictures.  Make your posts stand out with infographics and photo-based updates. This improves the chances that your information stands out in a sea of text.
You do not need to hire an expensive firm to get social media "right" for your business. Following a few simple rules can make a huge impact on your success rate with social platforms like Facebook and Twitter. When looking over any social media strategy, take a few minutes to tap into your inner teenager. They are, after all, the next generation of consumers and decision-makers. Model their social media behavior in these specific areas and improve your online cred in the process.
About our guest author: Megan Totka is the Chief Editor for ChamberofCommerce.com. She specializes on the topic of small business tips and resources. ChamberofCommerce.com helps small businesses grow their business on the web and facilitates connectivity between local businesses and more than 7,000 Chambers of Commerce worldwide. Megan also specializes in social media training courses.