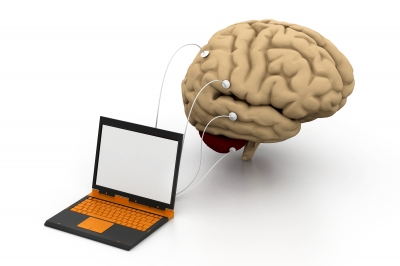 What's the most important thing you can do to improve your skills as a writer, blogger, or content marketer? I'm not sure there's any one right answer, but my vote goes to working on your cognitive fitness.
That's a term we're going to be hearing a lot about. I first read about it in Harvard Business Review in a 2007 article called Cognitive Fitness by Roderick Gilkey and Clint Kilts.
Originally coined by Michael Merzenich, cognitive fitness refers to the capacity of a person to meet the intellectual demands of life. It is evident in an ability to:
Assimilate information
Apply rules of logic
Comprehend relationships
Detect patterns
Identify emotions
Create new perspectives
Develop reasonable conclusions and plans
If that's not a job description for the professional content marketing writer, what is?
Brain Coaching for Writers
I predict a new wave of professional trainers and coaches who can be hired to improve your thinking abilities. Like personal trainers and nutritionists, you could aim to vastly improve the quality of your work and productivity through brain coaching. Why not?
Cognitive fitness can be developed by formal education, being actively mentally engaged in life, continuing to learn, and exercises designed to challenge cognitive skills. You do intellectual workouts whenever you engage in professional activities, just like each time you play tennis, you practice your game, your backhand, your serve.
What if you had a trainer who could stretch you, coach you, challenge you to think better? Well, I think it's a great idea. But let's say you don't have the kind of money required to hire your own brain coach. What can you do that's time and cost effective, and fun?
3 Steps to Cognitive Fitness for Writers
Here are a few suggestions, and how I've personally tried them out.
Step outside your field. Neuroscientists have shown the brain will grow new neurons whenever you challenge it with variety. The best way to prevent your brain from aging is to stimulate it with new learning, new activities. When you do, your brain will use its pattern recognition system to compare old knowledge to new. This is a great way to think up new and different metaphors for your writing. I've found that learning a new language is also a good brain workout.
Within your field, seek out experts in other domains. Recently I attended a Writers' Conference in San Miguel de Allende. I learned about writing fiction, plays, dialogue, memoirs and characterization. Some of the same 'rules' apply, but with a larger variety. Every time you learn, you expand your big picture thinking and stimulate neurons to grow and connect.
Take breaks. Just like you need to recuperate between sets of a physical weight-training workout, your brain needs fresh air and breaks to keep it vital. I use a variety of brain refreshers: bits of housework, kitty playtime, TV shows… whatever brainless activity you can do will help you be even more creative when you get back to work.
What do you say about this? I'd love to hear your experiences keeping your writer's brain fit. (Image: Freedigitalphotos.net)