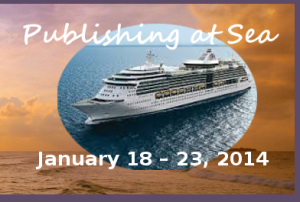 Sometimes my work involves traveling to far-off airports, and that's never pleasant. Quite frankly, I don't like leaving the comfort of my home here in paradise (Ajijic, Mexico).
However, I'll go anywhere to learn more about the craft of writing and publishing expert ebooks for my clients!
This weekend, I'm joining Joan Stewart, the Publicity Hound and four other book experts on a Publishing at Sea cruise in the Caribbean.
I told my husband, "Atila the Honey," I just had to go, that it was work not a vacation. But I think he's doubtful. Oh well. Honestly, it is work, as I'll be learning everything that's changing in the world of digital book publishing, particularly the marketing pieces.
I'm interested in learning more about:
The sequenced action steps for attaining best-seller status once the book is finished
How blogging can help promote book sales and build a fan base
How to use social media sites wisely
What are the traditional marketing pieces not to be skipped – PR, etc.
Granted, I know a bit already as a ghost writer for some of my successful clients. You're already aware of how everything about traditional books has been rapidly changing. Today it's easier than ever to write an ebook, get it formatted and published on Amazon for Kindle.
Easy, yes. But tricky if you also want thousands of readers. And that's true whether you offer it for free or for a hefty fee.
I recently collaborated with a great executive coach in Australia. Di Worrall's Accountability Leadership book went to #1 on Amazon in the business category. How did that happen? Ah-hah, the secrets to ebook marketing are multiple.
Here are some of the topics we'll be covering on the cruise:
How to develop your topic.
How to identify your key points and create stories to engage an audience.
How to tie in current events with your presentation.
How to structure your first words.
How to create a memorable closing.
How to find groups that want your message.
How to move from free to fee.
Get what search ranking is, including Klout and how to optimize it.
How to bring sanity to social media.
Easy ways to reach your readers online.
I can hardly wait! The problem in going on this cruise is that I'll be brimming over with new ideas and have too much work to do when I get back! Oh well…!