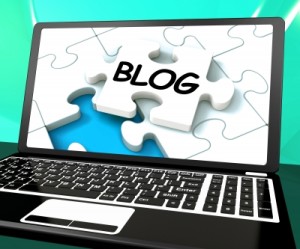 How can you get to be a better, faster blog writer?
Did the job of blogging or writing fall into your lap? Or have you been a professional writer for some time, who's now transitioned into blogging for yourself or a business?
Bloggers come from all walks of life, that's one thing that I know for sure.
Whether you're a professional writer or not, here are some tips on how to be more productive and efficient when it comes to writing. No blogger is safe from the pitfalls of writers' block or lack of inspiration.
Here are a few ways that you can work on becoming a faster and better blog writer, which will in turn free up your time:
Set yourself up for success.  Are you easily distracted? Clear your writing space of anything that might take your mind off of the task at hand. All I need to write is my PC, a notebook, and a pen. I have to keep everything else away if I hope to get anything done.
Plan your content before you start. Even if it's just jotting down a few ideas before you get started, you'll be happy you planned ahead when it comes time to start writing. Sitting down to a completely blank canvas can be stressful. Try to come up with some ideas about what you'll write about ahead of time.
Set reasonable goals.  Don't plan to write all 17 blogs you need for the month in one day. Set yourself a realistic schedule. If you've mastered writing one blog/day, think about planning to write two on some days. If you set unreasonable goals, you'll be tempted to just say forget it and not get anything done.
Work on increasing your typing speed. Do you have trouble with your mind moving faster than your fingers can type? Try finding some exercises to increase your typing speed. The more you type, the faster you'll get. Then your fingers and brain will be on the same wavelength!
Learn how to research more efficiently. Taking notes and documenting sources as you go is a great way to not have to backtrack and figure out where the info you're using is coming from. Other research tips can be found here.
Take breaks as you need them. While it's good to keep your nose to the grindstone as long as you're feeling productive, breaks will help you to clear your mind and re-focus. Even just a few minutes here and there will help you get more focused.
Follow these 6 easy tips and you'll be on your way to becoming a better blog writer.  What tips do you follow to improve your writing?
Megan Totka is the Chief Editor for ChamberofCommerce.com. She specializes on the topic of small business tips and resources. ChamberofCommerce.com helps small businesses grow their business on the web and facilitates connectivity between local businesses and more than 7,000 Chambers of Commerce worldwide.
(Photo: by Stuart Miles at freedigitalphotos.net)