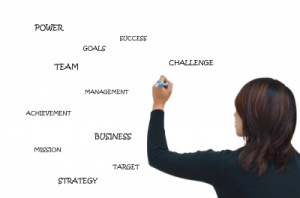 How can you craft a great expert ebook using the same tactics of expert speakers with fascinating video presentations on TED.com?
I've been reading Jeremy Donovan's excellent book, How to Deliver a TED Talk, and gathering tips on how the experts do it (see my previous posts here and here.) Here are three more ebook writing tips from good speakers:
1. Build the ebook content and transitions. We more easily remember concepts when they're delivered as three examples or elements. This progression helps you stay focused writing your ebook, and more importantly primes the readers to remember your message.
This can be as simple as:
Tell them what you're going to tell them
Tell them
Tell them what you just told them
2. Start with a table of contents based on three main points. Each point may have several sub-points or examples to elaborate the problem or situation. Be sure to write stories that illustrate both failures and solutions. This might mean your ebook has three parts with 2-4 chapters in each part.
3. Three narrative styles are particularly powerful:
a) Situation-complication-resolution framework (Dan Pink on motivation at work)
b) Chronological narrative (what happened)—for example, Jill Bolte Taylor on surviving a stroke
c) Idea-concepts description (Richard St. John on eight secrets of success)
4. Write both facts and emotions. Regardless of the structure you choose, appeal to both the audience's right and left brains. Stories or activities pique the emotional right brain. Facts, strategies, tips and techniques convince the left brain. You want to lead your readers through an emotional journey, but include enough facts to anticipate the right brain's logical objections.
Transitions between chapters or examples should reinforce the prior section's key message, while also teasing  readers about what's coming next. Using a catchphrase will help accomplish this.
5. Create visuals that inspire. Use as few graphics as possible or none at all. If using them, keep them simple with limited text and images.
6. Write a conclusion that calls readers to take action. Your conclusion is the final opportunity to inspire  readers and call them to action. Use language that clearly signals the ebook is ending. Refer back to the "why" – your compelling reason for writing this ebook – that powers your unifying message. (Reinforce with catchphrase!)
It may be worthwhile to allude to a personal story, shocking statistic or provocative question you've shared earlier in your ebook. Ask readers to do something: an easy next step with a sense of urgency.
Watching TED Talks won't automatically make you a good author, but they will inspire you to improve your ebook writing skills.
Once you've learned a few ebook writing tips, practice by writing up a first chapter. Show it to a few people you trust to be honest and helpful. Ask for help from trusted peers, a mentor or a writing coach.
This last suggestion is key. You can't improve your chance to make a really big impact without practice and feedback. It's a prime reason to speak with a coach or editor who's familiar with your field. If you've got questions about this, give me a call.