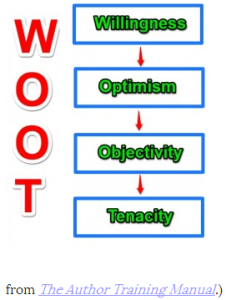 Some say success for a writing career is a question of attitude. You simply put on your super-hero cape and think positively… I say 'hogwash!' Thinking doesn't drive results.
There is no secret 'law of attraction' for achieving a writing career. A success mindset helps you tap into energy, but unless you get into action, all you've got are dreams.
Dreams come easy for writers, too easy. Take any writing assignment, either for yourself, your own business, blog, or ebook, or one for a paying client. Chances are, you'll spend as much time dreaming about the piece as you will actually writing it.
Recently I read a good post about "The 5 Qualities You Need to Successfully Self-Publish Your Book," by Nina Amir on The Future of Ink blog. She suggests adopting an "author attitude" of WOOT, from The Author Training Manual.
This clever acronym suggests five attitudes for successful writers:
Willingness to change and grow
Optimism in the face of challenges
Objectivity to see your work from readers' perspectives
Tenacity to do whatever it takes to get it done, get it good, and get it to market
Treat your book as a business, with a business plan and an entrepreneurial mind set
I couldn't agree more, but I would add five more qualities:
Write, rewrite, get it edited, rewrite, write it again
Organize your research, dive deeply into it but don't drown in it
Only write when you have your clearly-defined targeted readers needs and desires in mind
Focus on universal values and human drives to learn; how can you make a real difference to your readers?
Feedback is necessary and good; get it often and work with good editors, proofers, and trusted reviewers
There you have it: the WOOT and WOOF of a successful writing career, whether you're writing an expert ebook, articles, or blog.