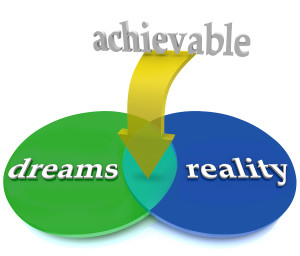 What goals have you identified for your blog and website? What do you want your blog to do for your business? No really, it's not as obvious a question as it might at first appear.
I've been working with executive coaches and consultants for well over fourteen years now, helping them improve how they show up on the Web. In that time, I've seen a number of changes to the way websites look and function. It doesn't matter if you use a traditional website, or a blog, or a blog as a website, the principles are the same.
Yet many professionals aren't clear about their content marketing goals; their website and blog goals and expectations are vague. I made some notes for one client and thought I'd share them with you here.  I came up with 5 goals your site should strive to accomplish in the first minute or two. One of them is a big challenge…
Impress visitors and showcase your business expertise: Within the first 5 seconds, your site's professionalism must convince visitors that you are a legitimate business worthy of consideration. There are too many amateurs with junky sites cluttering up the Web. Your site must pass the "blink" test.
Engage, educate, entertain & persuade visitors to subscribe: Within the next minute, your site needs to present easy-to-find information to engage visitors and show you've got much more to offer if they stay or subscribe to read more.
Capture interest and convert visitors into leads: If you want to get more than just visitors from your site, you must ask them to do something: take a survey, vote, download a report, sign up for your newsletter, blog or e-course. This builds a marketing database of people interested enough to leave their email with you.
Generate new business from current clients: There are effective ways to use your blog or website to engage your clients, generate more traffic and encourage referrals and repeat business. This is one of the most overlooked functions of professional websites and blogs, yet it is one of the most financially rewarding.
Attract visitors from search engines: Well-executed search engine optimization (SEO) can be an effective way to get your site highly ranked and generating a steady stream of new visitors.
The first four goals on this list are met by writing compelling, relevant content that solves the problems of your readers. These are the goals of content marketing, whether with a website or a blog.
Goal #5, Attracting new visitors from search engines, is where the question marks start jumping out from your head like Medussa's snakes.
The Big Challenge: Attracting Search Engines
Ah… the mysteries of SEO (search engine optimization)… I am not an expert on SEO or algorithms, but I do know that the Search Engine Optimization landscape has changed dramatically over the last couple of years. One of the side-effects of these changes has been the fact that many low-cost SEO tactics have lost their effectiveness and power.
Consequently, a lot of small businesses and professionals today are struggling to achieve their SEO goals on a restricted budget. After all, for small companies, hiring an expensive agency is often not feasible.
According to Scott Yates, in yesterday's Hubspot post, "You Can't Fool the Penguin:"
One of the biggest changes, and a very positive one for the general internet-searching public, is that Google is getting super smart. Used to be you could fool search engines into directing people your way by using lots of keywords and spammy links. The trouble is, nobody wants to read a blog post that is full of keywords and spammy links.

Now Google changes its search algorithm all the time. There are still a few little tricks for SEO optimization, but even these will likely become useless before long. What this means is that the best way to draw traffic to your blog is simply to write useful stuff that real people want to read.
Of course, I agree with Scott. To attract readers, you must publish compelling, relevant content that solves their problems.
What do you think? What goals do you have for your blog or website? What has worked best for you?
P.S. Last week I shared a Shortcut Guide and questionnaire that can help you. You can download it here: Blogs4Leaders.com.