How to (Finally!) Start Your Expert Ebook…

Sometimes the key is to just start, to take that first step. It gets the brain working and starts generating creative ideas.
I don't know how many times I've heard some pretty smart leaders tell me they want to publish a book… but… but… and well, then there's that other thing too.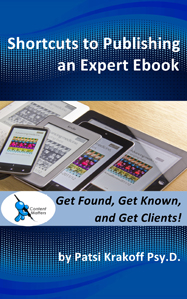 Let us send you a special report:
How to Become a Bestselling Author with an Expert Ebook
Included are 10 questions to answer before you write a single word of your book.
You'll get clarity and focus, and hopefully, unleash the muse!
If you find you are having trouble, give us a call or send an email. We are happy to answer your questions.
Ebook Services
Want to save even more time (and money?)

You don't have to do it alone. As a journalist-turned psychologist and experienced internet marketer, I will interview you and create an exclusive Expert Ebook for you and your business.
Written well, your Expert Ebook will help you gain credibility, attract the right people and sell you and your services better.
Send us an email, or give us a call.
.
(c) 2005, 2017. Authorize.Net is a registered trademark of CyberSource Corporation