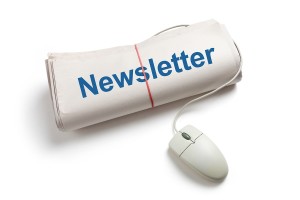 When it comes to creating or growing your newsletter email list, you need to stay on top of managing it so it brings you clients.
Successful small business professionals don't have a lot of time on their hands, but they understand the importance of staying in contact with their prospects and clients. Sending newsletters with relevant useful information is a great way to keep connected, but it needs to be done as efficiently as possible. Creating a newsletter email list is no exception.
Here are five things you must do to manage your email list effectively:
How do you currently manage your contacts?
Smartphones and email contact databases are a great place to start, but they don't do much beyond generating a list and allowing for calls, texts or emails.
If you've created some groups in your phone or email contacts, you're a step-ahead; you may be able to export these groups into spreadsheets or databases, which could allow you to track more information for each contact, send group emails and newsletters.
A spreadsheet, or .csv file, can usually be used with a newsletter and/or newsletter distribution tool, like MailChimp, Aweber or Constant Contact.
List the equipment and software you are using. (For example, smartphone contacts, email contacts, spreadsheet, database, etc.)
What other information do you track, or would you like to track, with your database? 
Because I have a content writing services company that sells products and services online, I utilize an online shopping cart. My newsletter database is managed through my shopping cart software, where people can sign up and even unsubscribe from certain segments.
Add this info in your list – the who, what, and when info is shared with prospect or client; products sold; calendar reminders; etc.
Are you using other platforms or software that interact (or could) with your database? 
My shopping cart also works with my website and other blogs, where clients can download free white papers, resources and products.
Add this to your list – software (including email marketing software), third party vendors, Apps, etc.
Who will manage the database?
Resources are always a big consideration for small business professionals.  The amount of time and energy you spend on a tool should be in direct proportion to the benefits, so you want to take a good look at what it will take to manage the database, who will have access to it  and how.
Your list should now include the elements of your process. Who does what, when, where, and how.
How much will it cost?
If you are considering a shopping cart or customer relationship management software (CRM), price is a consideration. You want to ensure that you are using most of the features, getting the biggest bang for your buck.
Depending on the system you choose, a CRM can track the details of each prospect or client relationship, set and measure goals, deliver and track email and newsletters, and even track social media comments and activities. The key is to look at how much is automated, how much is manual, and how many steps are required to manually enter something.
CRM pricing is typically based on records (clients or prospects), users or a combination.  You'll also need to consider set-up, integration, training and ongoing support.
Will you need to upgrade or add computers, smartphones, and if so, how frequently?
Being aware of these costs can eliminate surprises down the road, especially if you're housing the database on your own server (or on your own computers) rather than offsite with a vendor.
Using the database that best fits your needs can exponentially improve team collaboration, productivity, customer service, and even sales.
The key is to choose the best fit for your business; your newsletter database, no matter what form it takes, should be a tool for efficiency, not an obstacle to maintaining relationships.
Now is a great time to take a look at your current process for managing relationships. How can it be enhanced? What change(s) could have the biggest impact on your business? Have questions? Send me an email or give me a call- 858-224-5886 – I'd love to hear from you.