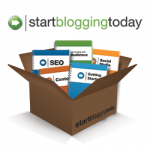 Ever wished you could start over? Take everything you've learned and pretend to be a "noob'… a newbie blogger? Start with a fresh blog, and see what happens?
Okay, maybe not trash everything, but start afresh, with your current know-how, with a fresh design, a new focus, and improved clarity.
Sort of like when you move and unpack everything, sort it out, get rid of unnecessary stuff…
You can. There's a great new blog training program that's launching today: Start Blogging Today. I've been give access to their private membership site. I wanted to find out if this program is something I can recommend to some of my clients who are just starting out with a business blog.
It is. Drumroll, trumpets and confetti, please. I highly recommend Start Blogging Today. If you're new to online marketing, or just starting a blog for your business, don't waste time and money.
Start smart. Enroll in Start Blogging Today. It's a comprehensive program run by a group of smart professionals who've been around the blogging block for awhile… namely Grant Griffiths, a founder of the Headway WP blogging theme, and Michael Martine of Remarkablogger. Check out these smart professionals behind SBT: Who's behind SBT.
I used to teach this stuff myself, beginning blogging, so I know what should go into a good blog training program. When I saw the SBT site and read their materials, I knew I could retire from blog training. Let them do it. I've got more than enough work and projects to handle.
If you feel you could use some blog training, even if you're not new to blogging but want to brush up your WordPress skills, check out the SBT site. You'll be impressed, very impressed. The site covers everything, includes an active forum where you can get your questions answered, and has video tutorials which are a great way to learn.
I asked Grant Griffiths why he started this program.Here's an interview I had with Grant…
"The thought which became Start Blogging Today came into existence because we saw a need and a desire in a marketplace.  Every single day we saw businesses struggling to gain an online presence.
While they could all throw up a simple web site similar to the Yellow Page ad they were running. what they really needed was a way to communicate and engage with their target audience.  And we knew blogging was the method they needed to use.
The problem too many businesses, whether they are home based, small or any size, face is that they think they are seeing too many other bloggers.  How can they compete and where would they fit in?
What we set out to do with SBT was to provide a framework of 26 core lessons to get them past that unwarranted concern and to learn how a blog and social media can market and promote their business.
The other roadblock to their own online marketing success was their lack of knowledge on how to actually use a blog and blogging platform.  SBT deals with this by giving them the tools from day one to get a blog up and going from day one.
From the very beginning of mapping out SBT we wanted to build a community and we feel we have done that with the members' only forums and the structure of the site.  We are even using Twitter and "protecting updates" so members of SBT can use twitter to communicate with us and we can make announcements for them too.
Also included with SBT is a members-only blog category which members will only see when posted.  We wanted to show members that all of the tools we were suggesting to them to use could be used and used well.
While our target audience for SBT might be the noob blogger, the newbie or the brand new blogger, it's good for others as well.  The just started, and even the blogger who has been around for a while can use Start Blogging Today to correct their course and kick an existing blog up a notch.  We feel any level of blogger can benefit from the core and bonus lessons in SBT."
So you can see why I endorse this program. The people, it's the people behind SBT. It's a dream course for any business professional who's starting out with a blog, or even for people who've been around for a while and want to take their blog up a notch.
Please note that I am an affiliate of this program. I joined it because I like the people who created it and knew they would deliver something good. (And also because I wanted to learn more about using WordPress as a blog platform.) I became an affiliate after I joined it, because I strongly believe in it's value. I'll be contributing to it any chance I get.
Check it out, best blog training around: Start Blogging Today. It's got The Blog Squad Seal of Approval.