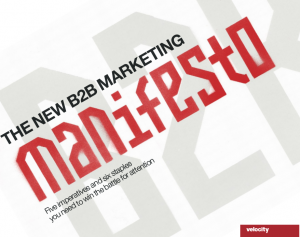 How good is your "trust-building?" I just read this term in a new digital release: The B2B Manifesto, just published by Velocity Partners in the UK.
Think about it. Before you can convert readers to clients, before you can get them to download your digital information and build your list, you've got to build trust.
The B2B Manifesto: 5 Imperatives and 6 Staples for Winning the Battle for Attention: page 19:
"You need to leverage trust-builders into each step of the (buying) journey:
case studies
awards
data
testimonials
analyst support
proof points"
I don't think enough of you do a good job of trust building. Maybe you've not been properly taught or missed class that day? As for myself, I've never thought about "trust-building" as a defined goal, I've just always assumed I was doing it every step of the way. But am I? Maybe not as well as I could. Are you?
As you create content for the Web, as you write your blog posts, do you embed trust factors? Are you reminding your readers of why they should believe what you say? Do you show them examples of results from your work? Are you regularly reporting out case studies that provide proof of what works for real people?
Do you include statistics, and charts or diagrams that back up what you say?
Are you including comments from satisfied clients, email messages, and other social proof? Probably not as much as you could, right?
As a psychologist, I know many people struggle with tooting their own horn, and don't even like to let others know about brilliant successes. I call it misplaced timidity or fear of marketing ones own self.
In online marketing it's well known that the money is in "the list." That is, when you promote something, you need big numbers on your email marketing list in order to get enough responses, partly because people won't always open your emails.
But hardly anybody talks about trust building. That comes first. Here's a big reason to read the B2B Manifesto, even if you're not "B2B"…. It is the most important message about the changing realities of marketing available.
No matter if you're a company guy or gal, doing marketing officially or not. All professionals who need to sell, either products or services, should read this manifesto. Download it now, it's well thought out and well-designed by Doug Kessler and the clever guys at Velocity.