A survey of more than 1,000 businesses this past Spring found that "producing engaging content" is the top challenge for people charged with marketing. The Content Marketing Institute published these results here: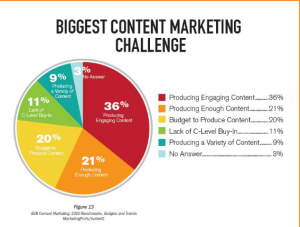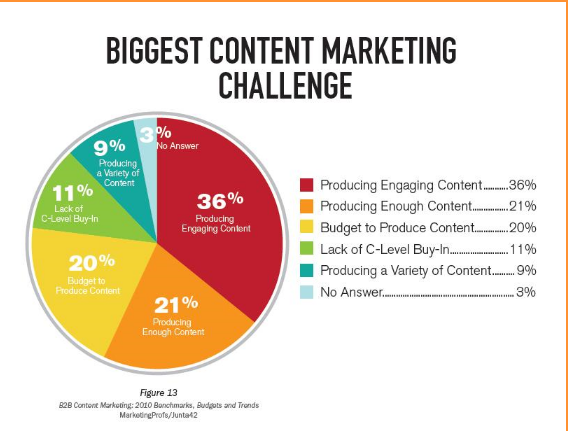 When 36% of marketers struggle with producing engaging content and another 21% with coming up with enough engaging content, well over half of content marketing challenges involves what to say or write.
Many of the small business clients I consult with have this problem. They spend a nice sum on a good-looking website designed only to find that it's delivered with "lorem ipsom" text as a place holder for content.
What do they write to replace the lorem ipsom? Of course it's all about their company products and services, why wouldn't it be? It's their website and people want to know what they do.
Yes, except for the fact that people are bored, in a hurry, and completely focused on themselves. Web visitors only want to know what you'll do for them, and if you are unique, amusing, shocking or outrageous they'll stay and read your pages.
Only the problem is, if you're in a field like leadership development or executive coaching, or a serious provider of any kind of services, you can't grab readers' attention by being rude like some of the videos on YouTube…
Here are three things the brain can't ignore, to keep in mind when you create content for your home page:
Novelty
Human faces and eye contact
Promise of rewards and satisfaction of desires
Can you see how hard this might be when you're selling serious products and services? Let's take life insurance, for example. Novel? No, not really. But wait a minute. The Aflac Duck is a very novel way to attract attention. The trick is tying it into what your staid company does for people.
The Aflac Duck story is brilliant branding. It contains three of the elements required for marketing to get actionable results:
Attention
Emotional response
Memorable
What can coaches and consultants do then, to provide content that grabs readers' attention in a way that makes an impact?
That's right, you guessed. Tell engaging stories of real people with real problems and how you can help.