If you're an executive coach or consultant or a professional working with leadership issues, may I make a suggestion? Content marketing for coaches and consultants can be outsourced, here's how.
You can get quality content at my other site, ContentforCoachesandConsultants.com.  When you become a subscriber you benefit from article discounts up to 45% for the year. Plus, in many states and countries, your purchase qualifies as a business expense and will be tax deductible.

Up until midnight ET December 31, 2010, you can use discount coupon codes and get an additional 10% off subscription prices.
Content for Coaches offers subscriptions for articles, formatted newsletters, blogging services, or All-in-One E-newsletter Service management for 10% off the regular prices:
Save up to $40 per article – pay only $39 per article on a subscription of 12, or $49 per article for a subscription of 6.
Save up to $99 on a subscription of 6 or 12 PDF formatted newsletters, either four pages or two pages.
Save $240 on the design, formatting and distribution of your e-newsletter with an annual All-in-One Ezine Service.
Here's a list of links for additional details and the corresponding coupon codes you can use at checkout to receive the 10% discount.  Let us know if you have questions.
Article Subscriptions – 2010ArticlesBonus
PDF Newsletters – 2010PDFBonus
All-in-One Ezine Service – 2010EZINEMGMTBONUS
Blogging Service: We are offering a 10% discount on ghost blogging for both 6-month and 12-month options. However, since this is individualized original content, we only have openings for two more clients. Send me an email if this is of interest to you.
Here are some sample titles and topics available: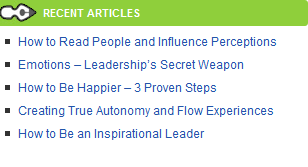 10 Myths about Motivating People…and the Real Truth
Power, Politics and Persuasion
5 Biases That Lead to Bad Decisions
Leading Change, One Conversation at a Time
7 Career Mistakes that Turn Mojo into Nojo
Ethical Slips and the Irresistible Urge to Cheat
How to Be Happier: 3 Proven Steps
Autonomy: Are You Master of Your Destiny?
The Art of Gossip
How to Improve Your Business Writing
Debunking Multitasking Myths – 10 Tips for Getting More Done
The Snowball Effect: Start Change Now