Update From Patsi, February 2012: We apologize for not updating this post earlier. I no longer update any social media automatically, but am posting manually (read why here, Say NO to Auto-Feeds: Your Blog & Facebook, Social Sites). This is time-consuming and may require a virtual assistant for some of you. I recommend SerenityVA.com.
How do you get your blog posts to feed into your LinkedIn profile and Twitter automatically? I asked social media expert AnnaLaura Brown to write a guest post. This is the 2nd part of her post Connect Your Blog to Facebook.
For LinkedIn you have a couple of options as well.
Your first option is to add the WordPress blog option to your Linkedin profile.
To do this:
Click on that link and you will see this page of options. There is an option to add your blog link with Typepad or WordPress.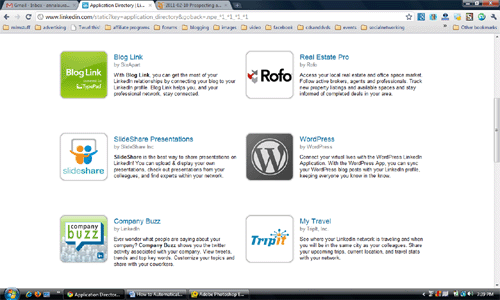 Click on the link and you will be taken to a page where you can add in the RSS feed for your blog.  From now on your new posts will be automatically posted to this section of your LinkedIn profile.
The second option is to add your Twitter stream to LinkedIn and then by default as long as your blog posts are appearing in Twitter they will also appear on LinkedIn.
You do this by going to the same page where you added your blog and clicking on the tweets application.
Twitter

Your first option is to use the networked blogs and check off that you want your posts to go to Twitter in addition to Facebook.
Your second option is to install the Tweet This plugin on your blog. This assumes that you are using WordPress. If you are using any other platform such as WordPress.com, Typepad or Blogger, then you will need to see if you can find instructions for this since I don't know how to do it. I only use WordPress.org.
Your third option is to connect your fan page to Twitter by going to Facebook.com/Twitter and then all of your fan page updates will automatically go to Twitter and so as long as your blog posts are appearing on your fan page they will appear on twitter too.
Follow these steps and automatically share your blog posts on Facebook, LinkedIn and Twitter and your blog traffic and online lead generation will increase significantly.
About AnnaLaura Brown: AnnaLaura Brown is an online marketer who enjoys making money online and teaching others to do the same. She offers a free social media mastery kit at her website www.internetworkmarketingwealth.com. Become a fan on her fan page at www.facebook.com/onlinebusinesscoach.