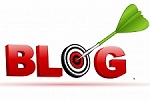 Maintaining a business blog is time-consuming. However, if you have clear objectives in mind, the effort very well could be worth your while. As you establish your blog, define your goals to determine whether to keep it alive. Below are five common uses for feeding regular content into a business blog. (photo courtesy digitalart)
1.  Raw Sales
For retailers and service providers, the most obvious reason to host a business blog is to peddle products or services. You want to show what you have to offer, and a blog is a great way to advertise deals to engaged customers who are clearly in the mood to buy and interested in your products (they are reading your blog, after all). If this is your intent, post product reviews, tell your readers about new products you're expecting. Your blog works as an extension of your website, so provide more information than customers would receive from the product page. Let the reader feel as if he or she is getting the inside scoop.
2. Company and Industry News
Businesses of all types use their blogs to keep customers and clients in the know. If you're hosting a company blog for communication purposes, include posts about company and industry news. These posts are especially useful for businesses catering to a tight niche. They also keep customers returning to informational business sites. These efforts help to establish a lasting relationship with customers who will return to a site if they know they can get up-to-date information.
3. Customer Service
You're doing business during a time when consumer concerns can spread like wildfire by way of social media sites. Blogs commonly are used to assess the damage and to contain it. If you sense a situation getting out of hand, you want to be the first to address it. A company blog gives you the platform necessary to correct misinformation or to take responsibility for a company blunder on your own terms. Unless you're in the business of goof-ups, this likely won't be the sole purpose of hosting a blog, but it can be a benefit.
Damage control is not the only customer service function of your company blog. You can connect directly with consumers by way of user comments and feedback. Invite user feedback. Let readers know that you review responses and take them into account as you make business decisions. Your blog can be the voice of your company, allowing you to relay information in a more personal way.
4. Recruitment
Find qualified people to work for your business by recruiting applicants via your blog. Announce open positions and find people who are already aware of and interested in your company. Your blog can help you filter through the endless lists of recruits you might encounter by advertising through secondary online job listing sites. Most businesses won't host a blog for this purpose alone, but blogs do not have to be uniform. Post relevant company information, and mention job openings as they become available.
5. Web Traffic
Anything that gives your business a marketing edge can't hurt. When Google and other search engines crawl sites for relevant information, they want fresh content. You might not have a reason to swap out copy on your actual site on a regular basis, so blogs are an opportunity to continuously replenish your site. Use relevant keywords in blog posts, and track whether it's working by using website analytic applications.
If you're unsure of the purpose of your blog, it might be time to reassess why you have one. Don't waste company time maintaining a blog that accomplishes very little for you. Consider each of the purposes mentioned above, and ask yourself why a blog is necessary in the first place. If you have any reasons to host a company blog other than the ones mentioned above, please feel free to leave a note in the comments section below.
Guest writer: Chris Peterson is a copywriter for Straight North, a leading Chicago, IL Web development company. He specializes in B2B and B2C marketing, with experience in informational blog posts, press releases, and website content that emphasizes Search Engine Optimization.  Follow Straight North on Twitter and connect with Straight North on Facebook.