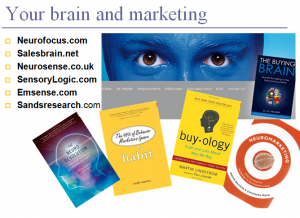 If you want to know more about how to write content that makes an impact on the brains of your readers, here are some interesting sites and books about the emerging field of neuromarketing.
There are new neuromarketing companies and books galore, and I believe most offer important clues for content marketers. Here are a few of my favorites:
Emsense.com: this interesting company sells a device that consumers can wear on their heads while in stores or shopping online so that marketers can monitor responses. Hmmm, interesting, but do they have my size in pink?
Dan Hill, author of About Faces and Emotionomics, runs the site SensoryLogic.com, specializing in reading faces and non-verbal responses of consumers to access marketing responses. I haven't read his books yet, because they aren't on Kindle, and I'm wondering why?
Does this new craze for brain imagining  and neuromarketing reveal any really useful information for content marketers? Or is it revealing what we already know is true?
I believe that there is new useful information for marketers, and in some case, they are only reinforcing what marketers already know. Copywriters have been using subconscious emotional triggers for a long time now with success.
New marketing trends moving away from advertising to content marketing will mean that a better understanding of the brain will allow us to be more effective in gaining readers' attentions, making an emotional impact and getting our messages encoded into memory.