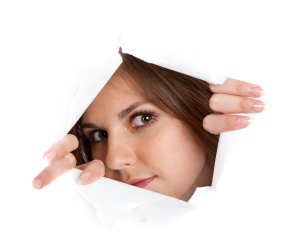 Does your blog pass the blink test? Content is king, but if your design stinks, visitors won't get past the banner. They won't stay, they won't get to know you and they won't subscribe to your blog.
I mentioned this in my previous post: in order to impress visitors and showcase your business expertise, your site must pass the "blink" test.  If it doesn't, you could be spending a lot of your valuable time blogging for nothing.
Bad blog design = bad marketing = no new business. Stinks, doesn't it?
The three critical blog "must have" elements you need to consider:
Branding/Personality (Banners, logo, photos)
Navigation/Simplicity (Layout, use of white space and read more)
Content (Problems you solve for your readers)
Branding/Personality
Design for branding, trust, and personality – everything on your blog should reflect your branding theme, personality, and the problems you solve for your readers. These are branding issues that need careful thought.  If you haven't already, checkout my Shortcuts to Publishing a Leadership Blog free download that will walk you through important questions you need to answer to create a great blog that attracts the right readers.
Photos

Use your photo, video, audio and a catchy persona or animal figure to give your blog personality.
We are instinctively drawn to faces, and using your photo is your first step in establishing familiarity and trust. You may have noticed my photo on the top right corner of my blog. I also use this on my other blog, Content for Coaches and Consultants, as well as a blue man figure, like the one embedded in my banner.
Personas and graphic images also relieve a site that is heavy with text, and provides humor and levity to serious topics.
The key is to be consistent with your brand and the key solutions you're trying to get known for.
Banners and Logos

Your banner should clarify what the blog is going to give readers.
After you've identified the colors, fonts, blog name and tag line you are going to use, create your banner and logo.
If you are using WordPress or Typepad to create your blog, I recommend installing a theme.  This will help you create a cohesive look, streamline your layout, and allow for easier navigation.  (I'll share more about this in my next blog post.) You may need a graphic designer to create the banner, and I recommend building your tag line into your banner.
If you need tips on finding a freelancer who can help you with your graphics, try doing a Google search, or if have other questions, let me know.