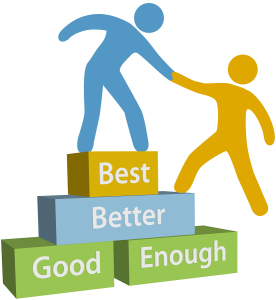 What goals have you identified for your blog and website for 2015? Have you created a map to help you reach your goals?
It's true, I don't believe in making new year's resolutions.  But after 15+ years working with executive coaches and consultants, I know that having clearly defined goals and expectations for a business blog or website is critical to help you get found, get known, and get clients; it will improve how you show up on the Web.
I've found that many professionals are vague when it comes to setting their business blog goals. They haven't clearly identified their expectations, or what they want their blog to do for their business. If you fall into that category, and you haven't identified your goals (or you want to refine the goals you've set), consider this checklist:
Impress visitors and showcase your business expertise: Within the first 5 seconds, your site's professionalism must convince visitors that you are a legitimate business worthy of consideration. There are too many amateurs with junky sites cluttering up the Web. Your site must pass the "blink" test.
Engage, educate, entertain & persuade visitors to subscribe: Within the next minute, your site needs to present easy-to-find information to engage visitors and show you've got much more to offer if they stay or subscribe to read more.
Capture interest and convert visitors into leads: If you want to get more than just visitors from your site, you must ask them to do something: take a survey, vote, download a report, sign up for your newsletter, blog or e-course. This builds a marketing database of people interested enough to leave their email with you.
Generate new business from current clients: There are effective ways to use your blog or website to engage your clients, generate more traffic and encourage referrals and repeat business. This is one of the most overlooked functions of professional websites and blogs, yet it is one of the most financially rewarding.
Attract visitors from search engines:Well-executed search engine optimization (SEO) can be an effective way to get your site highly ranked and generating a steady stream of new visitors.
The first four goals on this list are met by writing compelling, relevant content that solves the problems of your readers. These are the goals of content marketing, whether with a website or a blog.
Goal #5, Attracting new visitors from search engines, has become a moving target over the past fifteen years.  I am not an expert on search engine optimization (SEO) or algorithms, but I do know that the best way to draw traffic to your blog is simply to write useful information that real people want to read.
Here's how:
Define your business Ps & Q – (3Ps + 1Q):
=> What Problem do you solve?
=> Who are the People you serve?
=> What Products and services do you offer?
=> What makes you uniQue??
Create a course outline or a table of contents as if you were writing a book or teaching a class on this problem, i.e., your expertise.
Make a list of keywords, categories and topics you're qualified to write about and that must be addressed to solve the problems of your readers.
Make an editorial calendar for each day of the week you're going to be blogging. Make sure you cover all the topics and categories, and that your keywords are repeated frequently in posts and titles (search engine optimization).
Make a weekly blog schedule to include writing the content, sharing it on social sites, researching and commenting on other blogs, and formatting, editing, linking, etc.
Whatever your goals may be for 2015, we wish you a happy New Year!