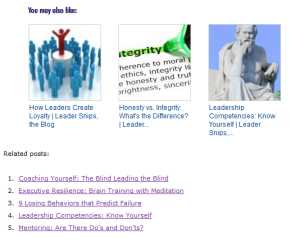 Clearly, one of the most important things that you can do when it comes to a business blog is to share new content. But what about those older blog posts that are hanging out on your blog somewhere?
Why not make good use of older content? Make it easy for your blog readers to learn more about your solutions to their problems. This requires that you do more than just write an article from the heart. Yes, writing with passion is great, but as long as you've got readers on your blog, lead them to older posts.
For business blogging, you'll need to become keyword-savvy, and use a plugin or two will help make it easy and automatic.
The screen-capture image at the top is a sample from Chip Scholz' LeaderSnips blog showing how at the end of each post you can provide suggestions for related posts. It uses the YARPP plugin.
Business blogs can be tricky creatures. While it seems like blogging should be pretty straightforward, there are a lot of nuances to building a successful business blog that your potential clients can actually find.
The good news is, you can put every piece of content that you write to work for you. Here are some suggestions that can help you build content and optimize the content that you already have on your site.
Paying attention not only to new content on your site but also how the old content is performing as well will help your business  blog be more successful in the long run. People who are mindful of all aspects of their blog or website will gain more readers. Remember to check your website's stats on a regular basis. This can also help you to determine what kind of content resonates with your readers.
Guest Author:
Megan Totka is the Chief Editor for ChamberofCommerce.com. She specializes on the topic of small business tips and resources. ChamberofCommerce.com helps small businesses grow their business on the web and facilitates connectivity between local businesses and more than 7,000 Chambers of Commerce worldwide.