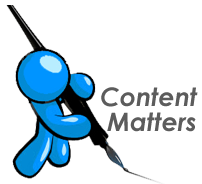 Do you do all your own blog writing? If you're a lawyer, financial adviser, doctor or consultant, should you write your own blog? Or can you outsource it to writers and guest bloggers? One of the main reasons to have a blog and publish frequently is because it helps you get found, get known, and get clients. Yet professional service providers are often pressed for time.
Visitors to your blog want to know more about you, your expertise, your talents and focus. They expect to read what you write to get familiar with you before they call or consider hiring you. This means you will need one or two hours each time you write a fresh post. And a good blog has fresh content at a minimum once or twice a week. How can you ensure you've got the time for blog writing so that you build up quality readership?
The solutions: The systems I've found to work best with the clients I serve involves a combination of learning to write quick posts, getting contributions from qualified guest authors, and using an appropriate content subscription service. I'll explain each.
Quick blog posting: With blog training, you can do your blog writing in under an hour from start to finish. It helps to start with a story, a burning message, or a compelling piece of research or news. Use a basic outline that goes like this: problem – example – solution – example – conclusion with call to action. Write 300 – 400 words, hyperlinking keywords to outside sources and previous posts, add an image, write a keyword rich title, check for search engine compatibility with a tool like ScribeSEO, and publish.
Guest blogging: It may take a while to find suitable guest authors, but once you do, you will have additional sources of quality content. There has to be some reward for them, so find what works, or consider paying them. Or do reciprocal exchange of posts. It will still take you time to edit their posts and format and hyperlink, but you will still save time and provide your readers with topic you might not think of.
Content subscription services: Find a content provider in your field and buy generic articles, then adapt them for your blog in your own voice. A prime example is Content for Coaches, my writing services for executive and leadership coaches. We provide research-rich content that forms the backbone of the article. All a coach needs to do is edit and rewrite it to customize it for their own professional services. (Or, we can do that for you.)
The point is, a business blog is de riguer on the Web. If you're a respectable professional, it's not sufficient to be active on Facebook or even LinkedIn. You need a blogging platform to provide fresh, frequent and quality content for the people who need your services.
Yes, it involves some time and expense. No, you can't skip this key marketing step. A business blog is still the best darned marketing tool on the planet! Be smart about it, however. Help is available and it doesn't cost an arm and a leg.
Here's a prime example of proof. Several years ago, two respectable leadership coaches approached me with the problem of getting themselves known online. They subscribed to my content services, I helped teach them how to use the articles and how to blog.
Just this week, I found a post on the 50 Best Leadership Blogs, thanks to Dr. Jon Warner at ReadytoManage.com. Two out of the 50 best blogs were written by my former clients. So you don't have to always write everything yourself, but content – quality content – can help you get started. It can help you find your voice.
"See" you around the Web. (This post was completed in 38 minutes.)