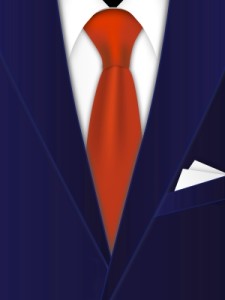 If you want to write well, you've got to strip down and get real: write relaxed. Nobody wants to read an expert ebook if your words are wearing a three-piece suit and a tightly buttoned shirt and tie.
Too many executives who want to write an expert ebook are in love with syllables, syntax and sycophants. When you write words to impress, you don't write well. You don't impress.
Instead, relax and write. Take off the tie, relax and write as authentically as possible using words any high school student can understand. You'll impress many more people and get your message heard by those who actually need your wisdom.
Highly educated readers can sniff out academic or business jargon and won't be impressed but simply annoyed. Even geniuses like things spelled out for them in clear language. Leave them some room to think about big ideas, not wade through your big words.
I'm not suggesting "dumbing down." It actually takes intelligence to write clearly so that anyone can understand.
Less educated readers like being invited to understand complexities with easily accessible words and sentences. Don't leave them out by using insider terms, acronyms, and cryptic allusions.
In the work I do with executive coaches and consultants, they often become so entrenched in industry-specific business jargon, they aren't clear to a global audience of working people. When seasoned professionals want to write their book, what may seem common sense to them isn't clear to the world at large.
This is where an experienced editor and writing coach can help. Often, the pre-work to writing an ebook hasn't been done.
What I call the "pre-work" to writing an expert ebook is becoming clear not only about the desired message, but clear about who you're are writing for:
Who are your readers?
What problem or pain can you fix?
How will you change your readers' lives for the better?
What's in it for them?
What's your message and what do you want them to do?
If you'd like to learn more, I've prepared a 10-question worksheet that will help you get started writing your expert ebook. You can get it (free) by going to www.Ebooks4Experts.com and requesting it.