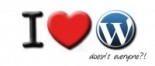 Have you tried to create a landing page using WordPress? I have. And I know others have too. You can waste a lot of time and still not get a professional looking page that works to get people to buy or sign up.
Last Thursday, I interviewed Suzanne Bird-Harris, a programmer who developed the WP Sales Page template.
Now Suzanne is pretty tech-savvy and she's also an expert in WordPress. So when she says this is next to impossible to create a good-looking sales page in WordPress without using a sales page template, I believe her. In fact, I tried to do this once myself, so I know.
I ended up paying someone to create a web page for me, in html. But since WP is so easy to use, I knew there must be a better way.
There is. If you'd like to know how to use a landing page template within your WP blogging platform, I suggest you read this page here, describing how the WP Sales Page template works: WP Sales Page… and yes, it's an affiliate link because I love this product. It saves me time and energy.
Here are a few notes we discussed during the interview webcast…
What is a "sales page:"
An attractive, compelling page published on the Internet that is optimized for search engines and designed to persuade a defined group of readers to take one specific action.
The key is that you want readers to take action. There should be no distractions on the page, such as your blog's header, side-bar widgets, navigation bar, etc. Also, the width of your blog page makes reading more difficult than a typical sales page of about 650 pixels.
It may be tempting to just create a page using your WP platform, because it's so easy to do, but it's just as easy to use a sales page template. And the results speak for themselves in increased conversions, better results.
8 Reasons to Use a Sales Page:
Sales of a product or informational product like a book
Registration for a class or workshop, virtual or otherwise
Membership in a program, paid or otherwise
Subscription to a newsletter, free or otherwise
Download a free report, white paper, or ebook/ ecourse
Take a poll or vote
Enter a contest
Sign up for any kind of program or subscription-based group
10 Elements of a Good Sales Page:
Headline (plus pre-headline)
Introduction
Your credibility
Benefits
Features/specs
Bonus
Build-up the Value
Ordering
Conclusion
P.S.
There was a lot of good advice and suggestions from Suzanne during the call, which lasted 90 minutes including answering a lot of good questions. If you'd still like the audio file and notes, fill out this form and you'll be directed to the page where you can download everything (free).