There aren't many conferences that I'd fly 5700 miles to get to, but the 5th International Customer Media Congress looks as if it's going to be another smash hit. I've been invited to speak, by uber-publishing-content-marketing icon, Sak van den Boom.
Somewhow in my family it meant you were in real trouble when you were "in dutch…"
Met wat voor tekst scoor je nu het beste op het web. Internetguru Patsi Krakoff uit Mexico blogt dagelijks en heeft wereldwijd veel volgers. Ze komt speciaal voor het jubleumcongres naar Haarlem om haar kennis te delen. 11 topvrouwen in marketing en communicatie op het netwerkcongres over customer media in de Philharmonie in Haarlem. Verzeker jezelf van een plaats. Schrijf nu in.
I don't suppose I'll see you there, but consider yourself invited. Here's the line-up: 11 top notch experts in creating content that engages the hearts and minds of customers through custom publishing. Who says print is dying?
I'm looking forward to meeting – among others – Jane Ottenberg, who won 15 awards in New York last week for her work at The Magazine Group from the Custom Publishing Council: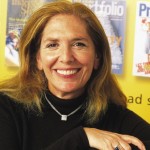 Jane Ottenberg, TMG Custom Media, Washington
"Give Print a Chance."
Jane Ottenberg, President of The Magazine Group, the leading quality custom media company, penned a column in the May issue of Folio: entitled "Give Print a Chance." Its intent is to serve as a rallying cry for people to stand up and talk about why print magazines still work.  In the column, Ottenberg explains that while digital media is a crucial part of her business, she is frustrated by the doom and gloom surrounding the magazine industry.  Consumer magazines have certainly taken a hit but custom publications are on the rise – Ottenberg was recently contacted by two Fortune 200 companies in one week about starting a new magazine.
There are other women speaking, and I'm looking forward to learning, as always. Stay tuned for my Brain Shark recording of my presentation in the next week.