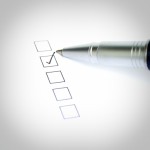 2012 Content Marketing – how did we get here so fast?  I've been reviewing my 2011 blog posts, email broadcasts, videos, and taking stock. I hope you're doing the same, so you'll get an idea of what's needed for your own business in 2012. (Photo courtesy Rawich/FreeDigitalPhotos.net)
Here's a checklist for reviewing your 2011 content marketing results so you can know where to spend your time and energy in 2012:
What were your most effective blog posts in terms of numbers of page views?
Which posts generated the most comments?
What email promotional subject lines got the best open rates? (Checkout this previous blog post for Subject Line Tips)
Which email newsletters titles got better open rates?
Which white paper or special report got good download rates?
Where did your most qualified leads come from?
Which teleseminar topics got the most registrations?
What were the press releases that got the most clicks?
You should also be taking a look at the quality of your writing, especially for your blog. Although it's a bit dated, a tried and true review of some sophisticated blog writing concepts is Sonia Simone's review of the best of Copyblogger for 2008.  (I warned you, it's a bit dated, but the concepts are proven and stand the test of time.)
What about you?  What are your favorites?  Most importantly, how did you do in 2011, and what are your plans for 2012?
If you're still having trouble, check out my recent post on ready to publish articles.  Content marketing is easier when you can outsource some of the writing and researching to qualified writers. A great way to short-cut the time needed to research, write and publish quality online content is to find a good writer to supply articles.
Now, I've got to get back to my own review.  2011 was a great year, let's see how much better we can do in 2012.  Happy writing!