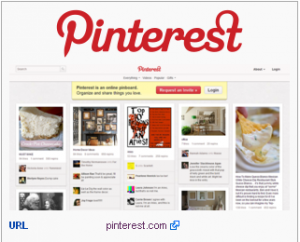 For a social media site to truly step into the spotlight, it has to have something special. Pinterest is one show-stopping sharing site that has taken the Web world by storm. A study done by Shopify, shows the growth of this site is better than Facebook and Twitter at the same point in their history. So how does your content marketing strategy work for this site?
According to Wikipedia, Pinterest is a pinboard-style social photo sharing website that allows users to create and manage theme-based image collections such as events, interests, hobbies, and more. Users can browse other pinboards for inspiration, 're-pin' images to their own collections or 'like' photos. Their mission is to "connect everyone in the world through the 'things' they find interesting" via a global platform of inspiration and idea sharing.
Orders from Pinterest are double those of Facebook and the site is the leader in average dollar amount per order, over sites such as Google, Amazon and Bing. Marketers are trying to find the best ways to leverage their companies and clients on this photo-driven site. So, how do these online marketing professionals incorporate content marketing while on Pinterest?
What to Share
For sure, this new social site is a no-brainer for retail stores and e-Commerce sites. However, if you're in a B2B business or sell services or have products that might be tricky to show off on an image driven site, what to share as part of your content marketing strategy can be a roadblock.
Content marketing is a focus for many agencies and businesses alike. Here are few things to share on Pinterest as a part of your content marketing strategy:
Videos: If your site features tutorials, interviews, news updates, or guides via video, share these. You'll drive traffic to your site and YouTube channel with video content marketing.
Infographics: Perfect for a photo-driven site, infographics are content in an image. Infographics tend to break down complicated studies. Easy to understand data is perfect for sharing.
Quotes: Quotes are some of the most shared images on this site and it is easy to find some that relate to whatever industry you're marketing for. Inspire your followers!
Books: If there are a few books you think your audience should read pin the covers of the books to a book board or images of excerpts.
Blog Posts: Drive traffic to your website with images from your blog posts, especially if it is a how-to or tutorial. Make sure the images are interesting and shareable. And, please, try to avoid stock photos.
How to Share
Knowing how to share your content is just as important as what you share. Your pins and repins need to be part of themed, organized boards.
Before repinning, test links. Don't just trust the current description. Making sure all your pins lead somewhere informative is important, especially when you're optimizing Pinterest for content marketing.
Repin from peers. Pinterest is a social site so make sure you are repinning, liking, and commenting on the pins of others. Not only can you generate impressions, you'll be able to stay up to date on trends in your industry.
Provide a description. Don't pin or repin without a concise description. People want to know where they're going and the description is your opportunity to guide them. Make it interesting.
Use #hashtags. Similar to Twitter, using hashtags is a great way to be found.
The key to effective content marketing is focusing on high-quality, informative and interesting content. Whether it's an image, case study, tutorial, or video doesn't matter. The quality of your content on this site needs to be stellar in order for your website to reap the benefits.
Make sure your site and blog are Pinterest friendly. Appeal to followers by focusing on what you share and how you share it. When you do, content marketing on social media sites becomes a snap.
Author Bio: Erica Bell is a small business writer who focuses on topics such as creating a business and social media trends. She is a web content writer for Business.com.