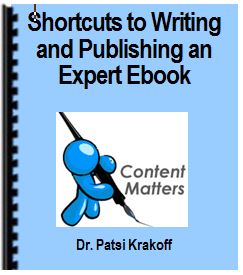 I've been blogging recently about how experts need to publish their own ebooks as part of their strategy to get found, get known, and get clients through online content marketing.
Here are 10 questions to ask yourself before you write a single word of your expert ebook:
Download the questionnaire here: www.Ebooks4Experts.com.
Over 10 years ago, professionals started using blogs to communicate to clients. As co-founder of The Blog Squad, I proclaimed blogs to be 'the best darned marketing tool on the planet!'
To some extent they still are, but the key for experts is to excel with quality content. A blog is only one channel for online content marketing, along with social media networking sites. Another key communication channel is publishing expert ebooks.
In the last two years alone, we've seen an explosion of ebook sales because of the proliferation of e-readers. Amazon has now sold more ebooks than all forms of print, ever. The barriers to publishing through traditional channels have fallen.
Now has never been a better time to get your book written, formatted and available in both digital and printed forms.
It doesn't have to be long, or complicated, or expensive to do. But it does have to be high quality. You want your ebook to reflect the quality of your professional services. You want it to attract people to you so they will eventually hire you.
You can't do it alone. There are a multitude of book publishing experts available to help you with each step of the process, including the writing, editing, formatting, design, publicity and marketing.
I am just one of a group of experts who can take you from start to finish. My expertise is in writing, and I've ghost written a best-selling Amazon ebook.
What I've learned is that clarifying the topic and keeping that in mind as you write each chapter of the book is critical. Never forget to focus on the needs of your readers. Help to solve their problems and they'll want to read more of what you say. Use your experience and stories to make your book come alive with authenticity and real-world emotions.
I offer you this questionnaire as the pre-step to complete before you write a single word of your book.
Download it here: www.Ebooks4Experts.com
Take some time to write your answers to each question. Get some input from others. Then tell me what you think. Does this questionnaire make it easier for you to start writing your expert ebook? I hope so.