What makes you mad, really mad about your online content marketing and blogging?
For me, it's when I write something I think is smart and clever and nobody reads it, or if they do they don't let me know it's helpful to them.
The second thing I hate is when I give away something I think is valuable and only a few people respond to my offer.
But I think the worst things of all are those creepy inner thoughts of…
Is anybody out there?
Does anybody care?
Am I writing to the wind?
Why am I knocking myself out with all this online content marketing?
Where's the traffic?
Where's the money, honey?
What about you? Are you getting enough traffic to your blog and web pages so that you reach enough of the people who want your services? Are you getting sales and new clients from your online marketing?
When I first started blogging, I thought I'd died and gone to heaven. I could publish my own web pages on the World Wide Web without any tech person holding me hostage. And the kicker was that people started finding me.
I had been working online for 5 traffic-puny years. I know what it's like to be alone and isolated. But with blogging, the windows to the world opened. I got traffic, I got found by the people who's problems I could solve. I started making money. I built up a database marketing list that doubled, then tripled.
I didn't even know what I was doing, but it turns out I did a few things right. And I learned the hard way from the things I did wrong.
Now five years later, I'm still learning about how to get great blog traffic so that my content marketing efforts pay off. I hired Michael Martine of Remarkablogger to teach me more and to take me to the next level.
Michael is a great teacher because even though he's a techie, he speaks English like the rest of us. No geek-speak.
That's why I asked him to teach a blog traffic workshop so that I could share what I'm learning with my peeps. That would be you, my blog readers.
Here's the skinny:
The Ultimate Traffic Formula with Michael Martine of Remarkablogger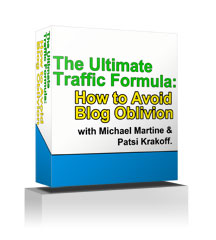 Wednesday, May 19, 2010 at 4 p.m. ET (recorded)

Phone, webcast, your choice
Tutorials, videos, handouts, bonuses
I am so convinced this will help you, that I'm giving away a program I was going to start selling, to the first 25 people who register for the workshop.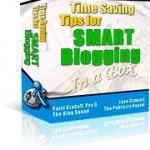 Time-Saving Tips for Smart Blogging is a blog tutorial with audio, transcripts and 23 pages of worksheets for business blog success, a $39 value.
But only for the first people who register, because you're the smart ones. Smart people get the best bonuses because they know a good deal, and they invest in their learning.
Here's how to get the Smart Blogging and Blog Traffic workshops together: go to The Ultimate Traffic Factor page, read the info, and register. Don't wait, because the package is only for the first 25 people who register.