How do you know if your blog posts are optimized for search engines?
Good question… and no  easy answer… well, except for one which I'm going to share with you here!  Here are a few options for optimizing your content for search marketing:
Study Google and search engine optimization (time-consuming)
Hire an SEO person to do some optimization for your web content (expensive)
Become a subscriber to a service called Scribe Content Optimizer (easy, instant & affordable)
Here's how it works. You go here, you sign up, you install it to your WordPress blog. You start using a free plug in called All-in-One SEO Pack.
You write a blog post, you fill in the information on the SEO plug in, you click the Scribe analyze button, wait a few seconds and get a review of how well your content will do with search engines. You then get a list of things you can do to raise your search engine optimization score.
Okay, seeing is better than me telling you. Here's a snapshot of a blog post that didn't score well, and here's one that got a perfect score. You can see for yourself that the Scribe report tells me what I can do to raise my score, to improve my search engine optimization.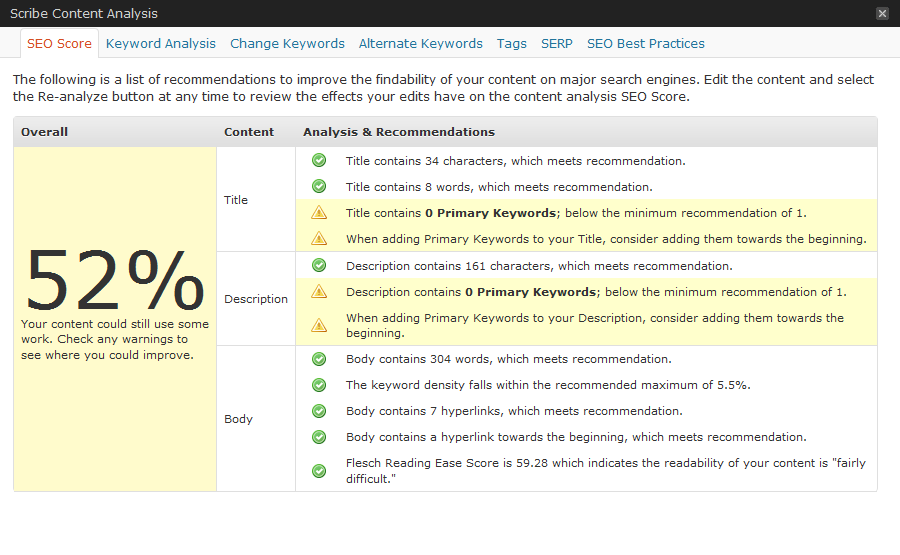 And here is a screen capture of a post that got a perfect score: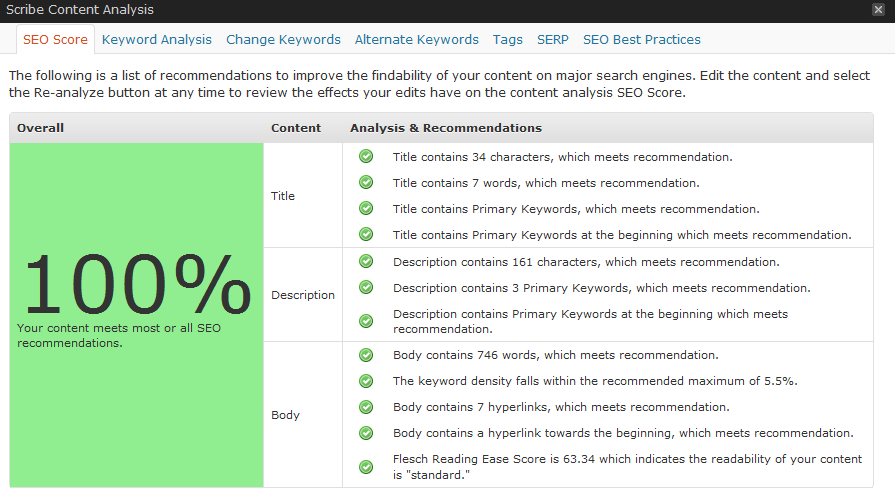 What can you learn from reviewing each post before you publish and fixing it for the search engines?
For one thing, I've learned that sometimes I am not clearly identifying keywords in the title or beginning paragraph, and sometimes I don't use enough hyperlinks. Also, sometimes I will  use a keyword too often in a post. This makes search engines think that I'm keyword-stuffing.
The truth is, I simply don't use enough alternative words and synonyms. By verifying with Scribe, I can tweak my post to make it more search engine friendly without destroying the quality of the content for readers.
Details? It costs me $27/month for the pro version and I can use it on my own blogs as well as my client blogs, the ones for whom I do ghost blogging. I can use it up to 300 times in one month, which is more than enough for my purposes.
Interested? Please use my affiliate link, here, for Scribe SEO Optimizer. You won't regret it, it's so easy to use and it's a teaching genius. Soon, after a few weeks, you'll be getting 100% perfect scores on your first try…