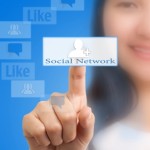 You're probably already on Facebook, sharing photos of your kid's first birthday party and links to your favorite articles, recipes and videos. After all, Facebook is a great way to keep in touch with friends and family. But when it comes to using social media for your business, do you really want your professional network colliding with your personal life? (photo courtesy Nutdanai Apikhomboonwaroot)
There is, of course, the option of creating a Facebook page solely for business purposes, which is a good way to separate your personal and professional networks. These types of Facebook pages, however, are often most successful when running a B2C business, and your clients consist of consumers who use Facebook on a regular basis.
LinkedIn, on the other hand, is great for B2B service providers looking for a more professional social media platform. It's a social networking site designed for the career- and business-minded professional. Users range from recent college grads to CEOs, all looking to expand their professional network so they can improve their career or business. (You can also have a business page on LinkedIn, as Patsi does here for Content for Coaches.)
Here, we'll examine the benefits of LinkedIn vs. Facebook for professional service providers, such as executive coaches and lawyers.
Keep your personal life personal. Your clients don't care to know what you had for breakfast this morning, and you probably don't want them to see photos from your recent trip to Las Vegas. While Facebook offers a window to your whole life, LinkedIn is strictly for professional use, so the content you post is relevant to your specific field.
Find companies, talent, clients and jobs. With a constantly growing database of user profiles, company profiles and job postings, you can use LinkedIn as a professional directory to connect with new clients, reach out to prospects and hire great talent. No one uses Facebook to post their resume – that's what LinkedIn is for.
Control your public profile. With Facebook, depending on your privacy settings, any of your friends or followers can post and tag photos of you, comment on your wall, and tag you in status updates. This takes a lot of the control out of your hands. With LinkedIn, only you can update your profile and status messages.
Don't worry about privacy issues. One of the biggest complaints that people have with Facebook is its confusing privacy settings, which are constantly changing with each new Facebook "makeover." Privacy settings on LinkedIn, however, aren't typically an issue — if your profile is only geared toward other professionals, you're likely not posting anything you wouldn't want to share in the first place.
Write and receive recommendations. Rather than the random and even spammy comments that typically litter Facebook pages, your LinkedIn profile can include recommendations from former and current clients and respected colleagues. These reviews can strengthen your position as a leader in your field. In addition, you can write recommendations for others to further connect and network.
Stay up-to-date on the latest news. A unique feature of LinkedIn is LinkedIn Today, which gathers the most shared news on the site all in one place. You can browse through the articles that have had the most shares and Tweets across the Web, so you can stay updated on current news. You can also customize your LinkedIn Today page and LinkedIn front page to show news more relevant to your industry.
If you're finding it exhausting to balance both your personal and professional networks on Facebook, think about giving LinkedIn a try.
Jacqui MacKenzie is a writer for Straight North, a Chicago Internet marketing agency with clients ranging from electric gloves and protective clothing providers to specialists in automotive lifts. Check out the Straight North Blog, or follow @StraightNorth on Twitter!