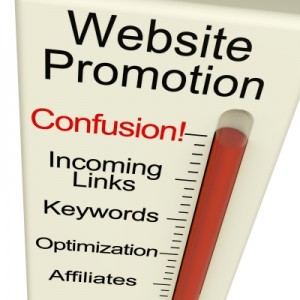 Should my business website focus on keywords and getting search engine results? Or quality content for customers?
Perhaps a more important question is "How do I make the most of each of my web pages so that my business and I get found, get known, and get clients?"
The challenge:
You want to make sure that your business website is fresh, attractive and informative. People visiting your website want to see something that piques their curiosity in you and your products and services.
Or put another way, you want to satisfy readers who ask: "What are you going to do for me that will… (Fill in the blank)."
Always keep that ideal customer in mind when crafting your message. The content must be relevant, new and, of course, SEO "friendly." This last requirement can seem the most daunting, especially for non-technical professionals who are less familiar with websites and online content marketing.
The "SEO Friendly" site:
For good SEO results, each page needs to be both keyword-rich and current. That means pages are updated frequently with good (relevant) content that is keyword-rich and unique, and appeals to what customers seek. You need to make your keywords obvious.
Do not use a template or basic page format and tweak the content. Search engines will not know which page to rank for what keywords. Similarly formatted content can easily be classified as duplicate content and you risk being penalized or ignored by the search engines.
Your business website should have the number of pages that is right for you. There's no exact number. It helps to be clear about the goals for your site. Ask yourself why people would need to access your website? Here are some possibilities:
To learn more about you and your products or services
To reinforce trust and credibility and establishes you as an expert in your field
To find out how your product (or service) delivers solid results, value, and customer satisfaction
To read what other customers have experienced with you and your company
To learn what distinguishes you from competitors
To anticipate and answer questions potential customers have
To inspire desire and entice readers to take action (sign up for a free offer, ask a question, etc.)
Use pages to anticipate and answer questions or concerns with solid, concise references to reputable content. This satisfies the dual needs for your pages to appeal to both customers and search engines.
Why bother with SEO:
We see a lot of smart professionals who focus on their expertise and the needs of the customers for quality information. That's a good start, for sure. But unless you also focus on keywords and keyword phrases, you may inadvertently confuse the search engines.
If your page doesn't come up in search results, you won't get found by the people who need you. Knowing how to optimize content for search engines isn't difficult, but it's a separate skill from writing content for customers. Don't ignore basic search engines optimization basics.
Search engines determine the quality of each page in order to provide the best possible results for the searcher. As long as your pages serve a purpose with fresh meaningful content, there aren't too many search engines that can dilute or penalize your site.
If you get stuck, go back to the basics. Ask your loyal customers what about you attracted them to you and capitalize on any input from them. Review your competitions' websites. Does your website communicate your passion? Is there a clear message that promises value and results? Remember your mission and endeavor to effectively communicate it through the content on each page.
About our guest author:
Scott Buffaloe earned his MBA at the University of Mississippi, and works with his wife, Christine Buffaloe, at Serenity Virtual Assistant Services. His area of expertise includes project management, list management services, SEO and social media analytics.
(Note from Patsi: If you don't want to use the expert services of professionals like Scott, at least subscribe to an SEO content tool like ScribeSEO that will review each blog or web page and tell you how to optimize it better.  I highly recommend either or both! I am an affiliate and use both Scribe and Serenity VA Services.)