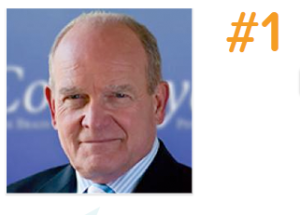 Are you #1? If you're a doctor, lawyer, author, or consultant, you'd like your clients to believe they've come to the best professional around. It may be hard to make that claim. Unless, of course, you can stake out a niche online, and show that you're a number one expert in your field with a blog.
Dr. Charles Parker, for example, is an excellent psychiatrist and certainly not the only one with years of experience treating people with ADHD – attention deficit disorders. But he is #1 in health care blogs for that specialty, according to ShareCare, a key site that ranks health care providers and links them up with people in need.
Dr. Parker's blog is at CorePsych. I know him personally because I helped him get started blogging. I didn't teach him everything, but I remember the day he called me from his office in Virginia, with questions. That initial phone call stands out because I was still in a fog, getting coffee at 5 a.m. in San Diego. He was on ET, of course, and ready to go. I don't usually pick up the phone that early, but that day I did.
That was the start of our relationship: he wanted to know everything about business blogging, and he wanted to be able to do it all himself. If there's one thing that separates the successful from the average, it's that ability to quickly comprehend and actually apply and implement.
You don't have to do it all yourself, but it helps to have done it, before you delegate. That's why many of the people I know who are successful at blogging spend time in the beginning. They hire an expert, they ask questions, they do the work… then they find a system that works for them. Sometimes they delegate and outsource, sometimes they don't.
But what truly counts is that they learn, do, repeat, and persevere. Dr. Parker didn't stop with a blog. He also created podcasts, videos, webinars. Years later, I'd run into him at big Internet marketing training seminars. He's always learning, always teaching, always doing.
I'll ask you again… are you #1 in your field? Do you have an award-winning blog? Do you know how important it is to have an online presence that showcases your expertise? Don't fool yourself, you may truly be excellent, but if nobody knows it, how well are you actually serving others?
It's not impossible to have a great blog and it doesn't cost money, just a little bit of your time and energy. It's the best damn marketing tool on the planet.
If you need help getting started, contact me. I've helped many professionals become #1, or Top Ten, and even Top 50 on lists of experts. I can teach you what you need to know, any level, beginner, intermediate, advanced. Blog training, blog improvement, and actually writing and managing for you.
If you were smart enough to become the expert in your field, there's no reason you can't become an expert online. It's not rocket surgery!