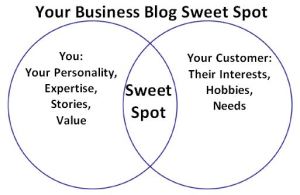 Have you found your business blog sweet spot? In previous posts I shared how storytelling and personalization are key to creating a blog with personality, and that the biggest mistake business bloggers make is ego-centric blog posts.  So how do you find that sweet spot, just between the two?
First and foremost, you must clarify your topic, and keep the readers' needs in mind as you write each post.
One way to understand their needs to is to know their online habits and interests. This will allow you to create blog posts that area engaging, and you can focus your content on the keywords your readers, and prospects, are likely to use in searches.
You can't do that without asking them what their interests are. Yet how many of us post on a blog or upload a video to YouTube without taking time to survey what are our target audience's interests, wants and needs?
Here's a quick list of survey questions to ask your target audience to help define what they want to read:
What are the five top web sites you visit frequently in your work?
What are your online reading habits, blogs, websites, articles, videos, podcasts?
Which e-newsletter and blogs do you subscribe to?
You have about eight seconds to engage someone before they click away. Clever headlines and intriguing social updates will get them to click over to your content. But unless you know what your audience wants, you're shooting in the dark. They won't stay.
So how do you keep them on your site to read your stuff? What makes for effective content marketing?
Good content builds momentum and always has an objective. Therefore your content needs to trigger an action. That's the way you engage readers to respond.
But you can't build relationships with people you don't know.
I'm interested in knowing your top 5 web sites you visit regularly for work (besides your own, of course). Here are mine:
Gmail, of course
My client's blogs and sites where I manage their content marketing
Alltop blog aggregation site: My Alltop page
Neuromarketing blog and Neuromarketing social networking site on Ning
Wikipedia
Of course, this varies. Some days I'm spending not as much time on LinkedIn or Facebook or Twitter. Nevertheless, I feed information to them every day and respond to requests, even if I'm not actively conversing.
What about you? Let me know which sites are tops in your book in the work you do… hit the comment link and submit.
P.S. If you haven't started your blog yet, or you're just not getting the results you'd like, I've created a free document to help you. Included are 10 questions to answer before you write a single word of your leadership blog. Go to blogs4leaders.com, and download my free Shortcuts to Publishing a Leadership Blog.