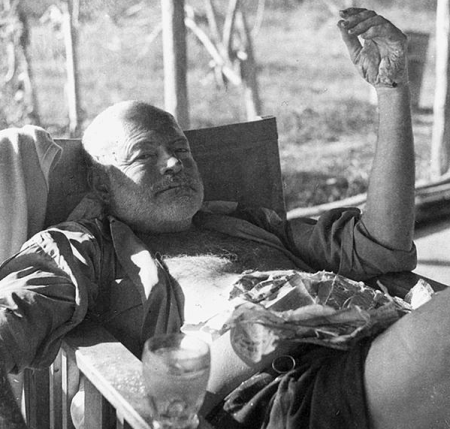 Is your blog content compelling? Are you attracting new readers, engaging with them, and growing your reader base?
In my last post, I shared an acronym that you should be using when writing blog content:
Content (compelling)
Assets (free)
Social Media
Track
Hemingway did not have the technological advantages that we have, nor a blog, but he knew how to engage his readers. As Larry W. Phillips describes in Ernest Hemingway on Writing:
Don't describe an emotion–make it.
Close observation of life is critical to good writing, said Hemingway. The key is to not only watch and listen closely to external events, but to also notice any emotion stirred in you by the events and then trace back and identify precisely what it was that caused the emotion.
If you can identify the concrete action or sensation that caused the emotion and present it accurately and fully rounded in your story, your readers should feel the same emotion. In Death in the Afternoon, Hemingway writes about his early struggle to write so that readers would feel emotion:
I was trying to write then and I found the greatest difficulty, aside from knowing truly what you really felt, rather than what you were supposed to feel, and had been taught to feel, was to put down what really happened in action; what the actual things were which produced the emotion that you experienced. In writing for a newspaper you told what happened and, with one trick and another, you communicated the emotion aided by the element of timeliness which gives a certain emotion to any account of something that has happened on that day; but the real thing, the sequence of motion and fact which made the emotion and which would be as valid in a year or in ten years or, with luck and if you stated it purely enough, always, was beyond me and I was working very hard to get it.
You see, it doesn't matter what industry you're in, or what you're selling, or whether it's a product or an experience.
You've got to connect with readers in emotional ways. 
A good place to start is your story.
As a professional, what event made you decide to do what you do? Tell the "why" behind the "what."  Here's an example using my own story behind the creation of ContentforCoaches.com:
I was once an executive coach with a busy practice, living on airplanes between consulting gigs. One day a colleague complained to me about not having time to do a newsletter so that he could stay in touch with former clients and prospects. I felt a bit of surprise by his comment, thought to myself, "…that shouldn't be so hard," and a light bulb went off in my head. I crafted a newsletter, swapped out my photo for his, put his logo and banner at the top, and said, "Here, you can use this. Quit your belly-aching. Get this emailed out."

The clients on his list loved "his" newsletter, and he got many responses. Since then, I've expanded with other content options, like ghost blogging and e-books. You see, some people are just hard-wired to write. What seemed like a daunting task to my colleague is pure fun to me.
Here are a few other tools you can use to strengthen your net, so to speak, when you cast your blog post:
Metaphors
Analogies
Vivid descriptions
Strong emotional language
Compelling words: "You," (Your Name), "Free", "Because" and "Instantly."
In my next post I'll share tips on creating assets your readers will love. In the meantime, try these tips on writing compelling content to engage readers and grow your reader base. Let me know how it works for you: connect with me on LinkedIn.