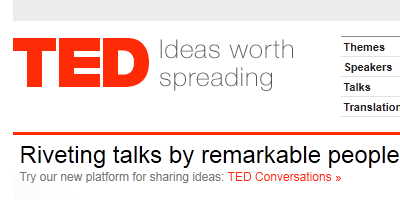 Having fun while learning has become my idea of a really good time. Forget drugs, booze and rock and roll. Now you can learn all about social media and the sociology of the Internet through video lectures.
If you're an information junkie like I am, you spend way too much time over on TED.com watching fascinating videos on every topic of major importance in this world.
Unbelievable, non? It combines education with entertainment. It's a great way to learn about the sociology of how people are using computers to connect with a global community.
My actual big screen TV is ignored (except for tennis  and we're waiting for the French Open at the end of May.)
What I find fascinating is the sociology of social media: we're still operating with the same primitive brains. We crave connection with others and to find meaning in our lives. Now, however, we're doing it online, on the Internet, using social media tools. Twitter is like a town square for the globe.
It's hard to choose which lecture to watch on TED TV as there are so many good ones. I was glad to see this blog post over at OnlineCollege.org because my colleague Carol Brown has posted about 15 terrific TED Talks that pertain to social media and the Internet.
Here are some of the great talks that will help you learn more about new ways to use traditional media and innovative ways to bring more to the digital sphere – and the sociology that's evolving.
Now that's my idea of a good time!