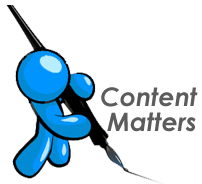 As a psychologist, I'm fascinated by how our brains work. When writing online content, I try to apply neuroscience to understanding why some copy outperforms others. When writing for business, i.e. content marketing, you want to get the words right, so that  your web pages, blogs and e-newsletters get results for your business.
Words matter. Content matters. Sometimes it boils down to just one word or set of words that can make the difference between a customer who reads or one who clicks away. For example, which do you think has more impact:
The surgery has a 95% survival rate
One out of 20 patients die from the procedure
If you are like most people, you would find the second statement far more worrisome even though the odds are the same. Even in today's marketing world, where we are inundated with images and sounds, words still matter a great deal.
There is a subtle but important difference between "10 percent" and "1 out of every 10." Roger Dooley cites examples in his book Brainfluence:
The difference is that numbers imply real people. A 2 percent chance of misfortune sounds low, but if you hear that 2 people out of 200 will be harmed, your brain imagines two actual people suffering an injury.
In an experiment that showed 79 percent of psychiatrists would release a patient who had a 20 percent chance of committing a violent act within six months, only 59 percent would release a patient when they were told that "20 out of 100" similar patients would commit such an act. (From Your Money and Your Brain, by Jason Zweig.)
Roger Dooley recommends this: if you are describing a benefit of your product or service, expressing it in terms of absolute number will maximize its impact.
Good: 90 percent of our customers rate our service as "excellent"
Better: 9 out of 10 customers rate our service as "excellent"
Negative data, however, should be present in percentages. Of course, it depends on the impact you're wanting to make.
Yesterday I sent out an email with the subject line, "90% of Leaders Aren't Trusted"… And then afterwards I realized that I might have had better open rates with "Only 1 Out of Every 10 Leaders Is Trusted." It's subtle, and I'll never know without doing a split testing, but I think the second line evokes more curiosity. what do you think?