If you're part of the 80% surveyed who say you don't have enough traffic to your blog, then here's a workshop that could make a big difference in your online marketing with blogs:
The Ultimate Traffic Formula with Michael Martine
of Remarkablogger
Wednesday, May 19, 2010 at 4 p.m. ET (recorded)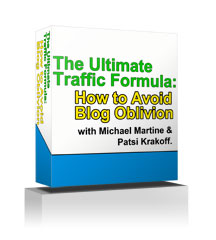 Phone, webcast, your choice
Tutorials, videos, handouts, bonuses
I am so convinced this will help you, that I'm giving away a program I was going to start selling, to the first 25 people who register for the workshop.
Time-Saving Tips for Smart Blogging is a blog tutorial with audio, transcripts and 23 pages of worksheets for business blog success, a $39 value.
But only for the first people who register, because you're the smart ones. Smart people get the best bonuses because they know a good deal, and they invest in their learning.
From some of the people I talk to, there seem to be a lot of misconceptions and mystery around best ways to drive traffic to your blog (or website). Michael Martine of Remarkablogger wrote the book WordPress SEO Secrets and he knows the real truth about blog traffic.
Here's how to get the Smart Blogging and Blog Traffic workshops together: go to The Ultimate Traffic Factor page, read the info, and register. Don't wait, because the package is only for the first 25 people who register.