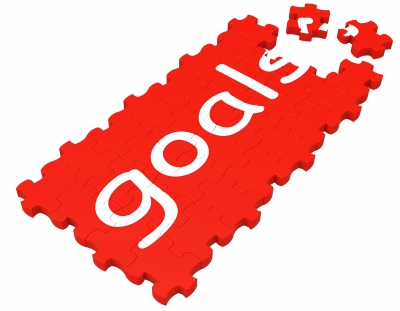 No goals for 2013. I'm not setting any marketing goals this year. Goals are bad. I am not kidding, and there's research to prove it. This isn't just me trying to avoid feelings of failure when I'm not seeing immediate results.
Here's an excerpt from Peter Bregman's blog Consider Not Setting Goals for 2013 on HBR:
It's not that goals, by their nature, are bad. It's just that they come with a number of side effects that suggest you may be better off without them.

The authors of a Harvard Business School working paper, Goals Gone Wild, reviewed a number of research studies related to goals and concluded that the upside of goal setting has been exaggerated and the downside, the "systematic harm caused by goal setting," has been disregarded.

They identified clear side effects associated with goal setting, including "a narrow focus that neglects non-goal areas, a rise in unethical behavior, distorted risk preferences, corrosion of organizational culture, and reduced intrinsic motivation."

Here are two of the examples of goals gone wild the authors described in their paper:

Sears set a productivity goal for their auto repair staff of bringing in $147 for every hour of work. Did this motivate employees? Sure. It motivated them to overcharge on a companywide basis.
Remember the Ford Pinto? A car that ignited when it was rear-ended? The Pinto resulted in 53 deaths and many more injuries because workers omitted safety checks in pursuit of Lee Iacocca's BHAG goal of a car that would be "under 2000 pounds and under $2,000" by 1970.

And here's another, via the New York Times:

Ken O'Brien, the former New York Jets quarterback, was throwing too many interceptions. So he was given what seemed to be a pretty reasonable goal — fewer interceptions thrown — and penalized financially for every one. It worked. He threw fewer interceptions. But only because he threw fewer passes. His overall performance suffered.

It's practically impossible to predict the negative side effects of a goal.
On the other hand, I got a great idea from reading a book review on Amazon. What if instead of setting business or personal goals for the New Year, I picked One Word to focus on? And no matter what I am doing, I think about implementing that word, in every way I can?
What if my "one word" for the New Year is "Care?" If I think about how I'm expressing that I care, how would the quality of my work show up?
I'd care if my blog had high quality, relevant content that helps readers
I'd care if I stayed in touch more frequently with clients and offered to help them out
I'd care if I reached out on social sites more often to share good ideas
I'd show I care if I asked more questions and listened better to friends and family
The more I think about using just one word as a focus, the more it makes sense to me. If I really do care, I want to get my marketing message heard by more people. It's not about selling, it's about being of service.
What do you think about this idea? I'd love to hear from you. Do you think it will replace goal setting at work, or augment it?