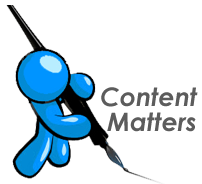 When should you hire a freelance writer for your blog or website? Most small businesses don't realize how much writing goes into publishing (and updating) a website or blog. Yet the content on your website or blog is the key component of your content marketing strategy.
In order to get the online results you deserve (leads: phones calls, emails, sales!) your web content should be well-written and SEO optimized — as well-thought out as anything else you do to market yourself and your small business.
So who writes the web content? That's a good question. For small businesses, it's often the owner or an employee who takes charge of producing and updating the website and blog content. And that can often be a poor decision. If your content is written by someone who's not a professional freelance writer and isn't trained to effectively write for the web, it's usually fairly obvious.
Telling your brand story in clear and compelling language and in a way that gets people to want to buy from you is what a website is supposed to do. And if current and prospective customers come to your site and find copy that's poorly written and/or filled with spelling or grammar errors, that inattention to detail might well cost you their business.
But don't despair. Most small businesses can't afford to have a trained writer on staff, but there's another option when it comes to writing content for your business website. Freelance writers are professional writers who work on a contract basis. You can hire someone to write the initial content and then update the website yourself in the future, or you can hire someone to continually update your site on an as-needed basis.
Either way, by working with a professional freelance writer, you'll ensure that your site will be filled with well written, relevant and SEO optimized content that will help maximize the impact of your online presence.
Working with a freelance writer also offers a myriad of other benefits that can help boost your business and reputation and free you up from the headache of trying to do it all yourself. Here are just a few examples:
Blog Content: Whether you're in the market for a few blog posts or prefer to completely outsource your blog content, a freelance writer is an ideal solution. Not only will you receive polished content that's ready for publication—you'll also know that your blog is regularly updated, something that can prove challenging for time-strapped business owners.
Press Releases: Press releases are an important part of your integrated marketing efforts and can help you keep media outlets and prospective customers updated about what's going on with your company. If media coverage is what you're after, it's smart to hire a writer or, even better, a PR professional who has experience writing and distributing press releases to do it for you.
Social Media Updates: Facebook, Twitter, LinkedIn and other social media updates call for writing that's called "microblogging." And there's an art to crafting messages that can be delivered in small soundbites. A freelance writer can probably help you craft some of your social media content and you'll be amazed at how effective the right kind of messaging can be for you and your small business.
Resources
Once you've decided to hire a freelance writer, there are a number of sites and resources that can help you find candidates. Don't hesitate to ask your friends and colleagues for referrals. Or try sites like Guru.com or Elance.com, which allow freelance writers to bid on projects or assignments. Another good place to look for freelance writers is, believe it or not, on Craigslist—I've had great luck sourcing writers there.
After you've identified prospective candidates, be sure to get several writing samples from them so you can familiarize yourself with their specialties and the quality of their writing. And depending on your scope of work, you might want to start your chosen writer on a few smaller projects to make sure the partnership is an ideal fit before you dive into more intensive work.
One more tip? Remember that, as with nearly everything in life, you get what you pay for. Don't expect stellar quality from a writer whom you pay pennies. It's important to find a balance between budget and quality if you do decide that hiring a writer is the way to go.
About our Chamber of Commerce Guest Author: Megan Totka is the Chief Editor for ChamberofCommerce.com. She specializes on the topic of small business tips and resources. ChamberofCommerce.com helps small businesses grow their business on the web and facilitates connectivity between local businesses and more than 7,000 Chambers of Commerce worldwide.