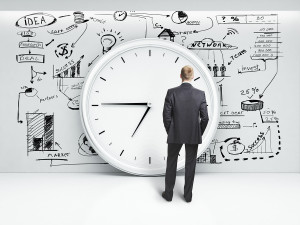 How do you avoid time-sucking traps when it comes to blog writing?
If you're anything like me, you may have found yourself (a time or two!) with nothing to show after sitting in front of your screen for 90 minutes.  Yup. It happens to the best of us.
You sit down with your coffee, open email, and an hour later still haven't posted on your blog. You decide you need inspiration, so you check out your feed reader.
Ninety minutes later, you still haven't started a new blog post. You've probably read some really great stuff, but now you're really behind schedule, and time is money. You feel anxious, overwhelmed, and you move on to client projects (but I've got a tennis match so I'll have to come back later…)
Sound familiar? Change a few details and I bet this is your story.
Last week I wrote about two ways to inspire your blog writing, going outside and going inside.
Clearly going outside for ideas to blog about is easy, but it's not without peril, as described above.
The way to avoid time-sucking, ego-draining traps is to go inside of yourself and write your own material.
Going inside can be a time saver, because you're the source of your post, (unless you get bogged down and start writing your memoires). However, always ask "What's in it for my readers?" Keep the focus on providing relevant stories they can use for their own edification.
Going outside for blog post ideas is fascinating because you'll be learning as you do this, however, it's a huge time-sucker. Only do that when you've got time.
Set a goal to split your posts up between original material and other people's resources 50-50 or even 70-30.
When I started out and was finding my way and still learning, I mostly wrote about what others were blogging about, maybe 25% of my own stuff, 75% outside stuff. Now it is the other way around.
One exception to this is to frequently write about your own clients, their stories, their emails.
So here's a tip for saving time writing on your blog:
Write something you're already working on.
These types of projects can easily turn into a blog post:
Emails
Speeches, presentations
Outlines for classes, teleseminars
Client projects
Newsletter articles
Notes from a phone call or conference
Your own 'to-do' list
Steps you need to take to complete a project
Passages you've highlighted in an article or book
What types of projects are you working on?  Do you turn them into blog posts? I'd love to hear from you – leave your comments or tips for others.